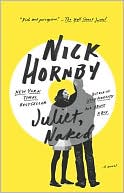 Juliet, Naked
by Nick Hornby
If you've had the pleasure of reading Nick Hornby once, it's hard to imagine not wanting to read all of his subsequent works. Certainly that is true of me, and I've finally had the chance to read his latest, Juliet, Naked. I don't know that this surpasses his very strongest work, but in no way does that imply that it is anything less than delightful.
Juliet, Naked is the story of three people. At the very center is Annie. Annie has been in a 15-year-relationship with Duncan. Duncan's not a bad guy, but perhaps the most notable thing about him is his obsessive fandom for a long-retired, minor musician named Tucker Crowe. Tucker is the third character in this triangle. We get one picture of Tucker's life and art through Duncan's smitten (and ignorant) eyes, but we are also privy to the reality, which is quite a bit different.
That is the set-up. Once we've met all the players, there is a catalyst that results in two major plot developments. The catalyst is the release of Tucker Crowe's album Juliet, Naked, a new, stripped-down version of his classic album, Juliet. It's the first anyone's heard from Crowe in 20 years, and the reception is polarizing. So much so, that it's the straw that breaks the back of Annie and Duncan's relationship. The other major, if improbably, development is that Annie and Tucker strike up a friendship. The novel is a warm, funny, affectionate look at three flawed individuals. Despite their flaws, it's hard not to fall in love with them. I can think of any number of less pleasant things to do than while away a few hours in their company.