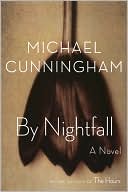 By Nightfall
by Michael Cunningham
Neither the film of The Hours nor the reviews of Specimen Days inspired me to want to give Michael Cunningham a try, despite the urgings of a respected friend. However, By Nightfall, coming in at 256 pages was a temptation I couldn't resist.
Basically, this novel is a character study of New York art dealer Peter Harris. Saying that it's a character study doesn't mean that nothing happens. The catalyst of events in the book is the visit of his wife's aimless younger brother Ethan, known as Mizzy (for "the mistake") in the family. Happily married, heterosexual Peter suddenly finds himself attracted to this younger, male version of his wife.
That brief description sounds lurid, but this book is far from it. It's as much about Peter's thoughts on art as it is about sexuality. And the reason the book worked so fantastically well for me is that, in Peter, Michael Cunningham has created a character that absolutely fascinated me. I was captivated by the world he lived in and the way he thought.
There is a certain amount of suspense as the novel draws to a close. I read it in a day, and though starving, refused to break for dinner until I had finished the book. In fact, I literally found myself holding my breath as I read the final sentences. As far as introductions go, this one was an overwhelming success. Highly recommended.