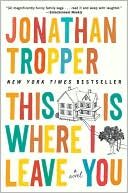 This Is Where I Leave You: A Novel
by Jonathan Tropper
It's always the same story with me… Hear about an intriguing author. Start purchasing (or acquiring) their novels. Keep purchasing (or acquiring) their novels. Never get around to reading them. Well,
eventually
I do, and then I'm glad to have the backlist standing by.
I've finally read Jonathan Tropper! Talk about being worth the wait. This is Where I Leave You was a delight from start to finish. As you may have gathered from the quote that titles this review, the first-person narrator, Judd Foxman, is in some distress. Not only has his marriage fallen apart, it's taken his career with it. And in the first sentence of the book he learns that his father has died. It's this latest loss that's the catalyst for all the events that follow.
Despite a life-long lack of faith, apparently his father's dying wish was for his surviving family to sit Shiva in the Jewish tradition. For seven days. Constant togetherness. To honor this request, Judd joins his mother, three siblings, and assorted other family, friends, and loved ones for the longest, most drama-filled, and downright funniest week ever. Here's an example of the cleverness of Tropper's writing, "He is the Paul McCartney of our family: better-looking than the rest of us, always facing a different direction in pictures, and occasionally rumored to be dead." I laughed all the way through the novel.
I don't need to fill you in on any more plot points or specifics. This is a dysfunctional family. Odds are that you'll recognize some or all of these characters. You just may laugh until you cry.