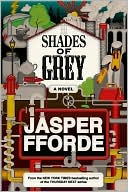 Shades of Grey:
The Road to High Saffron
by Jasper Fforde
6.1.02.11.235: Artifacture from before the Something That Happened may be collected, so long as it does not appear on the Leapback list or possess color above 23 percent saturation.
Did you understand that? You would if you were Eddie Russett, the 20-year-old, first-person narrator of Shades of Grey: The Road to High Saffron. Eddie knows that the above is one of Munsell's innumerable Rules.
"The Word of Munsell was the Rules, and the Rules were the Word of Munsell. They regulated everything we did, and had brought peace to the Collective for nearly four centuries. They were sometimes very odd indeed: The banning of the number that lay between 72 and 74 was a case in point, and no one had ever fully explained why it was forbidden to count sheep, make any new spoons or use acronyms. But they were the Rules..."
Not surprisingly, this is a society that has embraced
"loopholery"
enthusiastically.
Eddie's society is a Colortocracy, where social status isn't determined by merit or by birth, it's determined by which color(s) 0f the spectrum you can see, and how much of them. Eddie's a Red, which is next to lowest on the totem pole. Oranges are higher than Reds, Yellows higher than Oranges, and so on. The only ones lower than Reds are the Greys, or achromatics. They can't see any color at all. They're the unappreciated workers of the society.
In Shades of Grey, Jasper Fforde has created a richly imagined future that revolves entirely around color, and the perception of it. Explains Eddie,
"No one could cheat the Colorman and the color test. What you got was what you were, forever. Your life, career and social standing decided right there and then, and all worrisome life uncertainties eradicated forever. You knew who you were, what you would do, where you would go and what was expected of you."
As the novel opens, Eddie doesn't want much from life. He wants to fulfill his Civil Obligations as best he can. He wants to marry into the prestigious Oxblood family. And he does have a few fairly radical ideas about improved ways to queue. Other than that, he wants to avoid the perils of swans, lightning, and mildew. But that's before he travels for the first time in his life, to the Outer Fringes, where the Rules are interpreted differently. Eddie's a fish out of water, and we're meeting people and learning about life in the village of East Carmine right along with him.
It is there that Eddie meets a Grey named Jane. He's smitten immediately, and that's even
before
she threatens to kill him. Jane, rude in a world without rudeness, violent in a world without violence, leads Eddie gradually down a path that has him questioning everything he thought he knew about the Colortocracy--in a world that most definitely does
not
value questions or those that ask them.
By now, you many have gathered that this novel is a bit of a departure for Fforde. There is so much going on that it's hard to take it all in, and virtually impossible to summarize. While undeniably funny, the humor is darker and a bit less overt. Shades of Grey is more challenging, sophisticated, and substantive than anything we've seen previously from Mr. Fforde. In a word, it's brilliant! The cleverness he has always displayed in his Thursday Next novels is dialed up several notches here, as he points his satirical eye at a world so strange and outlandish that comparisons to our own are inescapable. I'm not convinced that all of the Fforde Ffanatics will embrace this latest work, but I suspect most will. And I, for one, with be looking forward with great enthusiasm to Shades of Grey 2: Painting by Numbers and Shades of Grey 3: The Gordini Protocols.