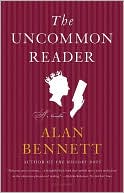 The Uncommon Reader
by Alan Bennett

I received this charming novella from a friend. Can I just tell you? There can be no more perfect gift for the bibliophile in your life. What a joy!

The story is simple. The Queen of England has some very bad corgis. One day on a walk through the grounds at Windsor, the dogs start barking their heads off at a mobile library. (What I'd call a bookmobile.) Neither the Queen, nor the dogs apparently, had ever noticed it parked by the castle before. Propriety being everything, the Queen pops her head in to apologize for the corgis' behaviour, but then feels compelled by that same sense of propriety to borrow a book while she's there. (It would be rude not to.)

She asks for help selecting the book from the librarian, and also consults with a young man who happens to be picking out a book of his own. It turns out that the young man, Norman Seakins, works in the castle's kitchen. So begins an odyssey that changes the monarchy, because quite by accident the Queen discovers that reading is the great passion of her life.

Not that everyone is happy with the Queen's new, all-consuming pursuit. She has to deal with Kiwi private secretaries and the Prime Minister, among others. This slim book is the story of the extraordinary friendship between a Queen and a dish washer. It explores the camaraderie of the literate. There are ruminations on books, and ruminations on writers--and why the latter are more enjoyable on the page than at a party.

The Uncommon Reader is short, sweet, funny, smart, and utterly delightful! It's just the thing to stuff in a stocking or give to a bookish friend "just because." Or, even better, just give it to yourself.