I know that I tend to go on and on about all the amazing literary events around San Francisco, but I can't help myself. It's basically non-stop here. And, as you've gathered, I tend to stay pretty well-informed about all this city has to offer. Therefore, it was a bit of a shock that an amazing literary conference almost flew by completely under my radar this past weekend! It was utterly random that I learned of it in time, but thank goodness I did! I would have kicked myself if I'd missed it all.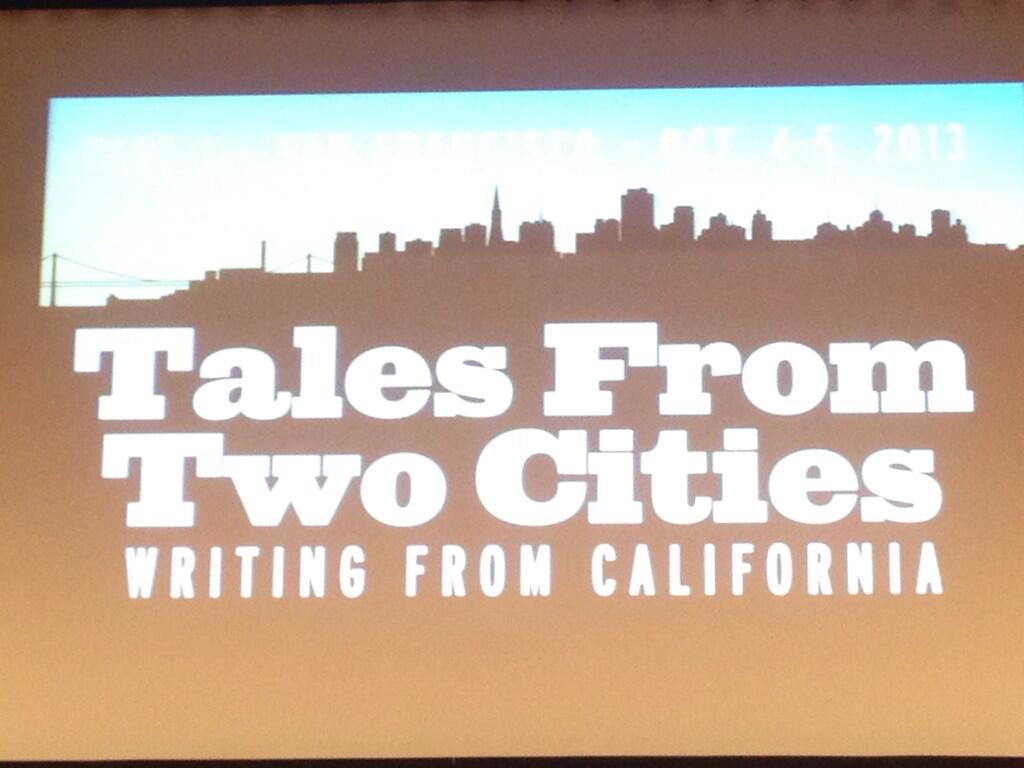 The conference was held at the
San Francisco Public Library
on Friday and Saturday October 4-5, 2013. It was free and open to the public. It's a terrible shame they didn't publicize this wonderful event better because for the most part it was scarcely attended. What was the conference? It was called
Tales from Two Cities: Writing from California
. San Francisco is obviously one of the "Two Cities," but the other is Los Angeles, and the second part of this conference will take place at the Los Angeles Public Library on February 21-22, 2014. Angelenos, mark your calendars. I freakin' hate LA, but gosh I'd love to attend the second half of this event!
Participants of the conference included Tobias Wolff, Robert Hass, Ellen Ullman, Phil Bronstein, Kim Stanley Robinson, and about two dozen more. The unquestionable highlight was David Ulin's keynote interview with
Armisted Maupin
, filmed in its entirety above.
I love Armisted Maupin!
I mean, I've been reading the Tales of the City for what? A couple of decades now?
I sort of think I live in San Francisco because of these books.
At the very least, they're a factor. In addition to a deep affection for his fiction, I've met and interacted with Armisted and his husband Christopher around town on any number of occasions now. They are both just lovely. It doesn't hurt--I suppose--that I tend to read his novels before they're published, and I always have effusive raves to share before anyone else has seen the work.
With that in mind, I used a super secret source to acquire an advance galley of Armisted's January 2014 novel,
The Days of Anna Madrigal
, on short notice. (Thank you, super secret source!!) I grabbed it the night before the conference, and I basically power read the novel on Friday morning, before I would be seeing him that afternoon. Oh, how wonderful it was to reenter Mr. Maupin's San Francisco! My San Francisco is pretty awesome. His is better. And it's populated by such dear old friends. I so enjoy visiting them.
I read the novel in a bit over four hours without difficulty. It's a
wonderful
addition to the canon. The only thing is... I didn't know until hearing Armisted speak that The Days of Anna Madrigal is
the very last Tales novel
. If that's the case--and he assures me that it is--then it really is the
perfect
end to the series. I just wish that I had known. I would have savored it a little more. I will surely have to read again. Here's a thought...start over from the beginning and read all nine novels! It sounds crazy, I know, but I've read these books a nearly unprecedented number of times. They make me happy.
I'm not reviewing this novel early, and you'll notice I haven't told you a thing beyond the title, however Armisted reveals some tantalizing tidbits in the video above. (Plus, he's awesome and candid and very, very funny. I so urge you to watch it in its entirety.) I was so pleased that I'd managed to read the novel before hearing him speak. And it was so nice to be able to share my enthusiasm and praise with him afterwards. He was, as always, absolutely lovely.
Kudos, also, to the wonderful
David Ulin
, whose work as a reviewer/editor I've admired for years. He conducts a delightful, spontaneous interview. And he also gets bonus points as one of the organizers of this conference.
As for the conference, I may share more of my own video here later, but for those who want more, faster, better, I have great news: FORA.tv shot the entire event professionally.
You can view the whole shebang right here
.