Last week I grabbed my favorite Francophile and headed down to the Ferry Building. Bestselling French author,
Antoine Laurain
was visiting
Book Passage
on tour for his charmer of a novel,
The President's Hat
.
Gallic Books
describes the tale like this:
Dining alone in an elegant Parisian brasserie, accountant Daniel Mercier can hardly believe his eyes when President François Mitterrand sits down to eat at the table next to him.

Daniel's thrill at being in such close proximity to the most powerful man in the land persists even after the presidential party has gone, which is when he discovers that Mitterrand's black felt hat has been left behind.

After a few moments' soul-searching, Daniel decides to keep the hat as a souvenir of an extraordinary evening. It's a perfect fit, and as he leaves the restaurant Daniel begins to feel somehow … different.
My girlfriend wasn't the only Francophile in the house that night. Msr. Laurain was greeted warmly by his French-loving, French-speaking, French-reading audience, some of whom had discovered The President's Hat in its original language. As for me, my high school French wasn't going to get me far--I was grateful the gentleman stuck to English. And despite repeated protestations, his English was more than fine.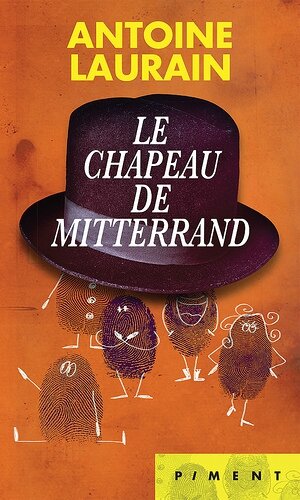 Maybe it's just me, but Msr. Laurain seems to epitomize Gallic charm. His accent is delicious, and my girlfriend all but melted--especially when he mentioned needing an American girlfriend to practice his English. I got an elbow in the ribs. His voice has a deep, slightly gravelly quality, and with the accent you have to listen to the video closely. The conversation with the audience was informal and wide-ranging.
I haven't had a chance to review The President's Hat yet, so stay tuned, but it's already a big hit in France and England. The novel certainly has the potential to become a sleeper hit in the States as well, if it can find it's audience. I could see it winning favor with fans of novels like Mrs. Queen Takes the Train. I invite you to make the acquaintance of Antoine Laurain on his first ever book tour in the U.S. Enjoy!
NOTE:
Book Passage
will be happy to sell you a signed U.S. first edition of The President's Hat!