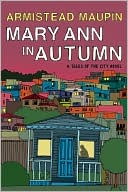 Mary Ann in Autumn: A Tales of the City Novel

by Armistead Maupin
I'd never been to San Francisco when I read the first five Tales of the City books. Armisted Maupin had created this wacky, wonderful city that seemed as fictional as the setting of any fantasy. I saved book six for my first visit to San Francisco, and once I arrived, I discovered the magical city that Maupin had created was exactly as described. On that first visit to San Francisco, I called my best friend and said, "I'm pulling a Mary Ann." I've been here nearly a decade.
I relate the above to explain that these books have had a fairly significant influence on my life. These characters are dear friends. And at one point I did very much empathize with series protagonist Mary Ann Singleton. Over time, we grew apart. I didn't understand all the choices she had made. Now Mary Ann and I are both a lot older than we were when we first met. After all this time, it is such a pure delight to catch up with her!
Alas, things aren't going so well on her end--on a variety of levels. Robert Frost once said, "Home is the place where, when you have to go there, they have to take you in." For Mary Ann, that place is San Francisco, with Michael "Mouse" Tolliver. He and his husband Ben don't let her down. In addition to Mary Ann's crises, this novel spends significant time checking in with Michael's business partner, Jake, and Mary Ann's adopted daughter, Shawna. An extra bonus in this novel, for long-time devotees like me, is that one of the plot elements ties back to the very first Tales novel.
I read this novel in no time flat. It was a joy from start to finish! (Oh, and if I weren't blurring the lines between fact and fiction enough already, a real life acquaintance of mine makes a cameo appearance in the book! That's a first.) Armisted Maupin makes what he does look so easy, almost as if he's channeling the members of this non-traditional family. (The "logical family" as opposed to the biological family, as Anna Madrigal would say.) He imbues his tales with such humor and such heart. The stories are completely over the top, yet grounded in an emotional reality. No one does this better.
Armisted, I am so grateful that you're again telling tales of the city. I hope to visit with these friends for many years to come.