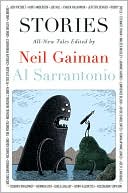 Stories: All-New Tales
by Jeffery Deaver
Above are the four words that Neil Gaiman writes about in his introduction to the collection edited by himself and Al Sarrantonio. "And then what happened."--the four words that every storyteller longs to hear. That child-like impulse is the essence of what he and Sarrantonio wanted to evoke with this collection. On that basis, they were largely successful. These diverse stories, written by an impressive array of writers, kept me turning the pages and, yes, wondering what would happen next.

In some cases, I didn't have to wonder long. The stories range in length from a mere three pages to an impressive 48. Despite his name appearing in 72-point font on the book's cover, Mr. Gaiman contributes only one story in addition to his introduction. So, die-hard Gaiman fans, don't be disappointed. Instead, revel in the embarrassment of riches that have been brought together. This story collection features contributors who are among the best in genre fiction (Gene Wolfe, Joe R. Lansdale, Michael Swanwick, Peter Straub), literary fiction (Stuart O'Nan, Joyce Carol Oates, Walter Mosley, Roddy Doyle), and popular fiction (Jeffrey Deaver, Jodi Picoult, Joe Hill, Chuck Palahniuk). Honestly, I barely brushed the surface of all the big-name contributors, so very many of whom are long-time favorites of mine.

I'll be honest, not every single story is a slam dunk, but not one was a stinker. The one I liked best (possibly Carolyn Parkhurst's featuring an unreliable narrator) might be the one you liked least. These things are so subjective. The overall quality of contributions is high. Whether you're looking for quick palate cleansers between longer works, or you're looking forward to reading this collection cover to cover, I feel confident in asserting that there's something for everyone to be found within these pages.