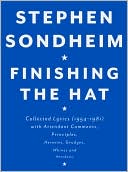 Finishing the Hat: Collected Lyrics (1954-1981) with Attendant Comments, Principles, Heresies, Grudges, Whines and Anecdotes
by Stephen Sondheim
If you are lucky, you will discover artists whose work speaks to you in a very profound way. For me, it's the paintings of Henri Matisse, the novels of John Irving, the musicals of Stephen Sondheim. I'm an unabashed fan.
Mr. Sondheim's new coffee table book, Finishing the Hat: Collected Lyrics (1954-1981) with Attendant Comments, Principles, Heresies, Grudges, Whines, and Anecdotes, is a gift to us all. Before you even start reading the text, flip through it and you'll see that this is a gorgeous book. It is chock full of photographs--more than 200--many of them full page blowups. There are pictures and artwork from the productions, candid photos from Mr. Sondheim's personal collection, and images of his hand-written notes, lyrics, and sheet music. This book is richly and beautifully illustrated. The only small disappointment is that all images are black and white, but it is truly a minor complaint.
Once you've feasted your eyes, dive into the text. Almost immediately, you'll see that Mr. Sondheim has written his book with the care and precision with which he writes his songs. There's a slight formality to the tone (with the laying down of copious rules along the way), but at the same time, it's a very candid look at his work, his collaborators, his predecessors, and his life. For musicians or composers, there is much substantive information on his process. And for theater buffs like me, this book is a treasure! Mr. Sondheim's contributions are the apotheosis of musical theater. The shows recounted are theatrical history. Sadly, I'm too young to have seen the original productions of any of these 13 shows, but now I've heard about the drama behind the scenes of Merrily We Roll Along straight from the horse's mouth. I know his two regrets from West Side Story, what he really thinks of theater critics, how he wanted to plot A Little Night Music, and the influence of Hammerstein's Allegro on his career. The truth is, there is just so much packed into this book, it is simply impossible to even begin to summarize the contents.
This book is specifically dedicated to Mr. Sondheim's lyrics, and what a joy it was to sing, er... I mean, read my way through them. To give you an idea of how comprehensive Finishing the Hat is, every lyric of every song from the original production of Follies is included. Nine songs cut from the show are included, along with the reasons behind the changes. A revised lyric for a later London production is included. And altered versions of "I'm Still Here" (for Barbara Streisand and for the film Postcards from the Edge) are included. And always Mr. Sondheim's thoughts, observations, and occasional criticisms are shared, often through the use of extensive footnotes.
The book ends at Merrily, 423 pages in, with a provocative statement and the word INTERMISSION. This is indeed the intermission between the volumes of Mr. Sondheim's collected lyrics/memoir, the second of which will encompass the remainder of his storied career. I can only hope the second book is well into its production. As excited as I was to get my hands on this book, it is truly more than I could have hoped for. In the end, it's a fitting testament to an immense talent.