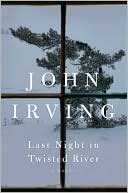 Last Night in Twisted River
by John Irving

I may as well come out and say it: I love John Irving. My love is unconditional. I will defend his lesser novels against all defamers. Happily, I will not be put in that position any time soon, because Last Night in Twisted River is his strongest novel in years. It's a wonderful read!

I recently told a friend, "It's so good it hurts." Reflecting on what I had said, I realized I was right. Sometimes reading his books hurts. He populates his novels with sweet, sentimental, anxious men, and then he tortures them. Mr. Irving's signature blend of comedy and tragedy is again on display. Only in his world does an oft-repeated tale of whacking a bear on the nose with a frying pan lead to an accidental death.

The novel opens in rural New Hampshire in 1954. Widower Domenic Baciagalupo is the cook at a logging camp, where he is assisted by his 12-year-old son Danny. It's a rough and tumble world, personified by the gruff and rugged logger, Ketchem, who becomes the closest thing to family that either Baciagalupo has. Last Night in Twisted River is an epic novel, spanning some 50 years. The aforementioned accidental death is the novel's catalyst. It causes Domenic and Danny to go on the run, sought for decades by a vigilante sheriff. But aside from being the tale of this truncated family's life in exile, this is a story about how you become the person you are.

Specifically, Mr. Irving is looking at how a writer becomes a writer, because that, indeed, is what Danny Baciagalupo becomes--a successful one, too. In fact, Danny Baciagalupo's career is... John Irving's career. There is no attempt to disguise the obviousness of the career trajectory, the subject matter of the books, the literary criticism--all are identical to Irving's. It seems clear that the author is having some fun with the self-referential material, but for fans like me, Irving gives us unusual insight into his process, and possibly some of his own attitudes on the life of a writer. Though, perhaps we can't assume that is so, as Danny has much to say about readers' assumptions about the autobiographical nature of fiction, and the value of what is borrowed versus what is imagined.

In a recent review, I commented on the way that Pat Conroy returns again and again to certain themes and plot elements in his fiction, but "jumbles them up in new and interesting ways." certainly this is true, too, of Mr. Irving. In this novel we again find bears, writers, absent parents, endangered children, New England settings, prep schools, and so forth. It's easy to compare different aspects of this novel to what has come before. A dash of Garp and a soupcon of Owen Meany. But right from the start, the work of which this reminded me the most was The Cider House Rules. Not in subject matter, but in the period setting and the span of the story being told. And probably in the nature of the male relationships in this novel.

Last Night in Twisted River is a long, heart-wrenching story. You won't be racing through it. You may learn more about logging than you ever wanted to know. But John Irving's language is magnificent and you won't soon forget these characters and their epic journey. This book is a must read for all fans of John Irving and of great literature.