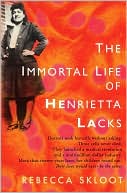 The Immortal Life of Henrietta Lacks
by Rebecca Skloot
What is there to say about a book so widely acclaimed? What can I possibly add to the discourse? Truthfully, there isn't much I can say that hasn't been said before, so I will keep this brief.
The Immortal Life of Henrietta Lacks is journalist Rebecca Skloot's first book, and it was ten years in the writing. In that time, she didn't merely research her subject matter thoroughly, she became a participant in the story she was writing. As a biology student, Rebecca's interest was piqued when she learned of the contribution to medicine and science of a cell line called HeLa--the first ever "immortal" human cell line. Immortal because the cells would continue to reproduce in culture indefinitely, as long as they were fed and cared for. It had been going on for decades. What Rebecca wondered was: Where did these cells come from? Therein lies the tale...
Nowadays, it is relatively common knowledge that these cells were cultured from a woman named Henrietta Lacks who died of cervical cancer back in 1951. That wasn't always the case. Ms. Lacks' identity, and the contribution she unwittingly made to the world, was obscured for years. Unwittingly, because the culture of her tumor was taken without her knowledge or consent. This was common practice at the time.
The book covers a lot of territory. There is detailed biographical information about the life and death of Henrietta Lacks. There is a lot of information about the contribution of the HeLa cells to science, from helping develop the polio vaccine, to going up into space. There is a thorough discussion of the bio-medical ethics in general, of the sad history of this issue and race, and in light of current issues and technology. And, finally, it is very much the story of the family that Henrietta Lacks left behind, her husband, five children, and innumerable cousins, and their interactions and relationship with the author.
Material that could have been overly complex or dry is absolutely engrossing. And all subject matter is handled with sensitivity and intelligence. It was all so interesting, but I think my favorite parts were the ethical discussions, past, present, and future. Reading the shameful history is painful. Unfortunately, in many ways the present isn't much of an improvement. Ms. Skloot ends her book in a primer of the issues we face moving forward. Hopefully, the more educated we are, the better we can protect ourselves and others. For now, it's a small step forward to see this subject matter gain such wide readership. And happily, there seems to be little danger of Henrietta's name or contribution being lost to history again.