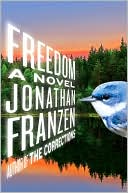 Freedom: A Novel
by Jonathan Franzen
Like Patty Berglund, the character at the center of Jonathan Franzen's Freedom, I'm not always as good a person as I wish I could be. For instance, I find it hard to root for Mr. Franzen's success. He's hardly an under-appreciated artist. Therefore, it is with all sincerity and conviction (and perhaps just a bit of disappointment) that I must tell you: This book is as good as everyone says it is. Possibly better. It's freakin' brilliant.
Freedom is nothing more than a satirical look at suburban America. Franzen accomplishes this with an intimate portrait of one American family, that of Walter and Patty Berglund. We get exhaustive information on the characters' formative years and on their lives together from a variety of overlapping perspectives. We are privy to the most intimate details of their marriage. We follow the lives of their children (primarily son Joey) and their closest friends. Franzen has created a series of deeply flawed characters in this clan, with incredibly rich, complex relationships. It is truly astonishing how thoroughly he inhabits each and every character, including many of the minor ones. Their voices are so comprehensive that every action and interaction, no matter how bizarre or inexplicable, rings absolutely true.
I mentioned above that the novel is a satire, and Franzen proves that he does, indeed, have a rich sense of humor. Getting the full nuance out of this novel was aided immeasurably by the tour de force performance by reader David LeDoux on the audiobook. LeDoux created distinctive voices for all significant characters and milked every last drop of humor and pathos from the text. His bravura performance allowed a great novel to shine all the more brightly.