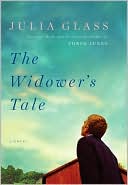 The Widower's Tale: A Novel
by Julia Glass
While former National Book Award winner Julia Glass's latest most certainly is The Widower's Tale, it might more accurately be described as the widower's community. Septuagenarian Percy Darling is at the center of this tale, but it delves significantly into the lives of his daughters, their families, and a diverse cast of others whose lives intersect his own.
Before I discuss the plot further, let me disclose a preconception. After reading the novel's description, I expected Percy to be some sort of stereotypical curmudgeon. I mean, he'd been alone since losing his wife decades earlier. Right there, I guess I expected him to be isolated and aloof. On the contrary, Percy is a loving family man. He has an especially strong relationship with his eldest grandchild, Robert, a student at Harvard. And Percy is pretty "with it" for a 71-year-old retired librarian. He emails, stays physically active, and has a pithy sense of humor. And, within these pages, he begins dating for the first time in years.
Percy's girlfriend Sarah is one of the characters whose life directly intersects his. I was rather more surprised when I suddenly found myself reading about a gentle Guatemalan gardener, and later a gay pre-school teacher. These individuals all become significant members of the community of Percy's later life, almost an extended family. Each has his or her own voice and a vivid internal world.
So, I was wrong. Percy Darling is no cardboard curmudgeon. But neither is this Widower's Tale one of those twee stories of a recluse being returned to the fold. There are elements of that familiar tale, but to dismiss Ms. Glass's work so reductively is simply unfair. It's not a May/ December romance, or a dysfunctional family drama, or a social and political commentary. It is all of those things and none. Glass's characters do not live lives free of tragedy, and I would never count on neat, predictable, happy endings. But by the time I reached the conclusion of The Widower's Tale, I was deeply satisfied with the tale told.