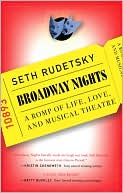 Broadway Nights: A Romp of Life, Love, and Musical Theatre

by Seth Rudetsky
I just returned from my third New York theatre trip in seven months. Seth Rudetsky's Broadway Nights: A Romp of Life, Love, and Musical Theatre was the perfect guilty pleasure to enjoy leading up to and during my trip. And enjoy it I did. It's the story of Rudetsky alter-ego Stephen Sheerin, a musician who makes a career of subbing in Broadway pit orchestras. His dream is to conduct on Broadway, and the novel is the story of his big chance to do just that. It's told in Stephen's own voice thought the journal he's been keeping at the suggestion of his therapist.
I had the pleasure of listening to the amusing Mr. Rudetsky read his own work in the audiobook version of Broadway Nights. Am I the only one who thinks it's hysterical that he complains about Dr. Phil's accent and constant name-dropping? While some of his humor may be unintentional, most of it lands right where it's supposed to. This is a man who describes eggs being "drier than a Noel Coward one-liner." It's a New York, Jewish, gay sensibility that Rudetsky brings to his fiction--perhaps not everyone's cup of tea--but it is funny.
Rudetsky is a real Broadway insider, and half the fun of this book is all the backstage stories he tells. (As well as trying to figure out who the loosely-veiled characters might be based upon.) The other half of the fun is that he was joined on the audiobook by an A-list cast of Broadway veterans. Kristin Chenoweth, Jonathan Groff, Richard Kind, Emily Skinner, Billy Porter, Andrea Martin, and three of the four [Tossers] are just a few of the talents lending their voices to the endeavor. I'm sure this is a fun read for any theatre geek like me, but if at all possible get hold of the audiobook. You'll be so glad you did.
And should Mr. Rudetsky return to the world of fiction, I'll be the first in line for his continuing adventures.