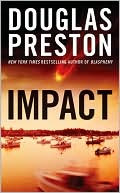 So, the weirdest thing happened a couple of weeks ago. I was killing time in a bookstore with a friend. (That's not the weird thing.) I noticed that my buddy Doug Preston's latest novel had been released in paperback, and for whatever reason I picked it up. Flipping past the pages at the front of the book, I stopped and did a double-take. There was a blurb (a quote from a review) credited to
In One Eye, Out the Other
. Yes, ladies and gentlemen, a review I wrote here was quoted in the front of the book!
And, I'm sorry, but that is just
so
cool. I don't know how it happened or why it happened, but I'm quite honored. It was a terrific thriller, and I'm happy if my enthusiasm for the title was infectious.
This raises an interesting thought. I rarely look at paperback books. There was no reason for me to look at this one. I never would have known that I was quoted. Certainly no one asked permission or informed me of this fact. Perhaps I'm blurbing all over the place and never knew it?
If you happen to see a quote from Susan Tunis or In One Eye, Out the Other in a book, do give me a heads up, okay? You'll make my day.