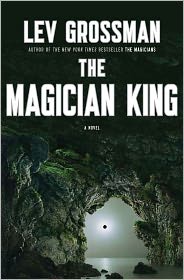 I sincerely hope that it is no secret that I'm a big fan of Lev Grossman's novels.
I absolutely loved his 2009 novel, The Magicians.
And I was delighted by the sequel, The Magician King.
I'm not the only one. Amazon.com picked it as their spotlight Book of the Month for August, where they wrote:
The second volume in Lev Grossman's celebrated series picks up just after the events of its 2009 prequel,

The Magicians

. Quentin, Eliot, Janet, and Julia are now the High Kings and Queens of Fillory, a fantastic realm not unlike Narnia, where they pass their days "deliquescing atom by atom amid a riot of luxury." To ease his royal boredom, Quentin embarks on a quest with Julia. Despite his romantic visions of heroic feats and easy accolades, the quest goes horribly awry, and they find themselves back in the depressingly real world of Chesterton, Massachusetts. With the help of seedy underground magicians, a dragon, and a young boy named Thomas, they undertake a desperate journey back to Fillory. Grossman's writing is sharp and self-aware, and the characters feel like people you actually know, but cooler: they are delightfully profane and dripping with irony, arrogant and shallow, finding their way in a magically perfect world that somehow still lets them down, and learning to fight for the things they love. The Magician King is a triumphant homage to modern fantasy writing, and a must-read for grown-up fans of Narnia and Harry Potter.
I couldn't have said it better myself, but, you know,
I tried
.
This book doesn't go on sale until August 9th, but I'm giving away a gorgeous trade paperback galley right now! Listen, I hate to beg people to let me send them a free bestseller. If we have less than five entrants, I'm afraid this galley is going straight to my face-to-face bookgroup. I've been holding all my hottest titles for you guys, and that's not fair if there's really no interest. But I hope there is, because these books are AWESOME! I stated a caveate a couple of weeks ago, and I'll state it again here. This is the second book in a trilogy. Do enter the contest, but please don't try to read The Magician King before reading The Magicians. And that's all. Normal rules apply. Good luck to all!
The giveaway is open to anyone with a U.S. mailing address ('cause I'm footing the postage).
To enter, all you need to do is post a comment below by Wednesday, August 10, 2011.
At my discretion, if there are less than five respondents, I can cancel or extend the giveaway.
Winner will be chosen by me with the help of a random number generator, and will be announced in the comments section of this thread.
Please check back to see if you've won. If you have left a way to contact you, I will do so.
The winner has one week to respond to me at suetu@yahoo.com with a mailing address, or I will choose a new winner.
If a second winner fails to respond, the book automatically goes to the lovely members of my face-to-face book club.
Previous giveaway winners are welcome to enter.
Finally, if at all possible, please comment below only if you're entering the giveaway.