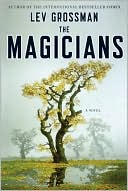 The Magicians
by Lev Grossman

Meet Quentin Coldwater. He's the proverbial smartest kid in his class, and quite possibly the most unhappy. Quentin and his friends are in the process of interviewing for colleges. His most recent interview has gone very much against the plan, and through a series of mysterious events, Quentin winds up in what he perceives to be another world. He suspects he may be in the mystical (fictional) world that he's been a bit obsessed with since childhood. "Is this Fillory?" he asks. "No, upstate New York." This exchange is typical of the ironic blending of fantasy and reality found throughout the novel.

After agreeing to take an entrance exam, Quentin is granted admission to Brakebills, a college of magic. As Quentin would say, "Wait, magic is real?" This may well be the first novel I've read where the characters had a bigger problem with willing suspension of disbelief than the readers did--or at least this reader did, because I was completely captivated from the opening pages.

As others have summarized, this novel explores the education and early post-grad years of several young magicians. No, it's not Harry Potter. After all, it's about kids who read Rowling and Tolkien and watch Star Trek. ("Didn't any of you watch Star Trek? This is basic prime directive stuff.") This is about kids from the real world. They cuss, they binge drink, they explore their sexuality, they make bad choices, and they know all the same pop culture references you do. In addition to these cultural references, Grossman pays homage in ways subtle and unsubtle to classic fantasies. Fillory, for example, might as well be called Narnia. Nonetheless, I enjoyed each allusion I managed to catch.

I was also interested in the way the less, um, magical side of magic was explored. Learning magic is difficult and painful work, and ennui seems to be an epidemic among adult magicians. Really, what are you supposed to do with yourself when all your basic needs are taken care of? What is there to strive for? While Quentin and his friends do eventually stumble onto a quest, he rightly points out that there is a dearth of monsters to battle in the magical world.

And Lev Grossman can write--don't let anyone tell you otherwise. Reading The Magicians reminded me why I'd enjoyed his last novel, Codex, so much. Namely, he creates quirky stories that are wildly imaginative, you never know how they'll end, and which feature some remarkably good prose. It is clear that Grossman is a polarizing author. All I can say is that his work truly speaks to me. Obviously, that's not true of everyone, but I highly recommend The Magicians for readers willing to put aside their expectations.