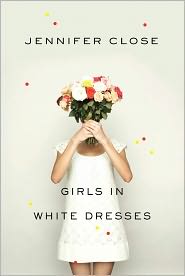 Hi Readers,
Sorry to leave you hanging this week. I've been super busy, working night and day, so we're going to make this a quick and dirty post.
This week's giveaway is a
signed
, trade-paperback galley of the recently published debut novel
Girls in White Dresses
by Jennifer Close. Here's what some are saying:
"Mixed in with the trials and tribulations of the protagonists are humorous vignettes from the lives of some of their other friends and acquaintances—many of whom are on their way to the altar or trying to find a way to get there. . . . Reminiscent of Melissa Bank's The Girls' Guide to Hunting and Fishing. It is modern and funny, with original, wry observations. Close's debut novel will appeal to both fans of contemporary women's fiction with a hip vibe and readers who enjoy old-school chick lit." —Library Journal (starred review)
I have to admit that I also thought of Melissa Bank as I read this novel of stories. While there was a lot of humor within the pages, I felt like there was more going on than just chick lit fluff. It's about being a woman in your 20's, and the growing you do during that decade and the mistakes and detours you make along the way. My own 20's bore little resemblance to what was depicted in the book, nonetheless, there was a universality to that period of life that I absolutely recognized and could enjoy looking back upon from the greater confidence and security of my 40's. When I finally write a review, I'll be giving it a solid 4 stars.
So, that's the book up for grabs. If you want it, please leave a comment saying so below by Wednesday, August 24th. Same old rules. I don't have the time to cut and paste them right now, but you guys know the drill. Good luck!