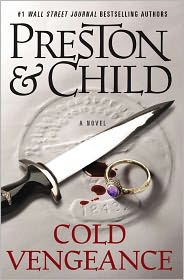 Cold Vengeance
by
Douglas Preston & Lincoln Child
Douglas Preston and Lincoln Child have been writing tales of Special Agent Aloysius X. L. Pendergast since 1995's Relic. And I have been a mostly loyal fan in the years since. But I might as well admit that Pendergast and I engaged in a trial separation these past few years. However, I just read Fever Dream, and I remembered why I had stuck with him for more than a decade. You don't just toss a relationship like that away.
And I'm hooked again. Cold Vengeance is book two in the Helen Pendergast Trilogy, in which the special agent is hunting the reason for and the identity of his wife's murderers. It begins just a few weeks after the events of Fever Dream. In brief, the novel is a deliciously drawn out cat and mouse game between Pendergast and the only opponent left standing in the last novel. As this pursuit unfolds, Pendergast comes to realize, "that he truly had not known his beloved wife. Like so many other fallible human beings, he had been blinded by love. He had not even begun to crack the ultimate mystery of her identity."
But he does make progress in that ultimate mystery—with the help of more than a few characters we've met in prior novels. Who was Helen Pendergast, and what was her family connected to? At one point, Pendergast's opponent challenges, "You think your fight's just with me, but you're wrong… The fact is you have no idea,
no idea
, of what you're dealing with."
By the end of the book, both Pendergast and the reader will have an inkling, but there's much yet to be uncovered. Preston and Child are masterful at building suspense, and the end of this novel will be the start of a torturous wait for the final volume in the trilogy. The book ends on more than one huge cliff-hanger. Along the way, there are shocks, twists, and revelations aplenty. This is some highly entertaining storytelling, and my favorite in the series for many years.
I was a fool to leave Pendergast these last few years! I will be waiting anxiously until I can see him again in the conclusion to this most compelling story.