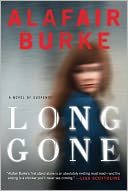 Long Gone
by
Alafair Burke
While Alafair Burke has been on my radar since she published her first novel, I haven't had the opportunity to read her before now. And perhaps it's best that I held off, as Long Gone is her first stand alone novel. With the profusion of series being published these days (Burke writes two), I've begun to cherish the rare stand alones.
What really got me to finally pick up Burke's work was the description of the plot. I'm a sucker for tales of the inexplicable. This one revolves around Alice Humphrey. Alice was a child of privilege, daughter of a famous filmmaker and an Oscar-winning actress. She's been somewhat aimless in her adult life, but is making a real stab at independence now that she's deep into her thirties. Unfortunately, she's been out of work for eight months and her options are narrowing. Paying jobs in the art world are few and far between. Then she makes a fortuitous connection at an art show. It seems perfectly organic when Drew Campbell offers her a dream job managing a small gallery. She spends the next several weeks thrilled to be working towards the gallery's debut, but the very first show opens to unwelcome controversy. She and Drew plan an early morning strategy session to deal with it, but when Alice arrives, the windows are covered with paper. Inside, the space is stripped completely bare—with the exception of Drew's bloody body. Alice has no idea what's going on, or why there is suddenly highly incriminating evidence surfacing, such as a photo of her kissing Drew. And while the proof is right in front of her eyes, Alice knows that she never kissed Drew.
That is the main story of Long Gone, but it's actually only one of three narrative threads. The others concern a missing teenager and a rogue FBI agent on a personal vendetta. How do all of these stories come together? You may occasionally think you've got part of the mystery figured, but it's near impossible to get all of the pieces to fit together until the final reveals.
Overall, this was a strong introduction to Burke's work. The novel was fast-paced and enjoyably complex. Characters were adequately fleshed out and sympathetic. I can't claim that every twist and revelation took me by surprise, but enough of them did to make for a thriller that lived up to its billing.