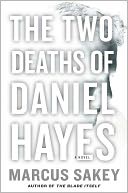 The Two Deaths of Daniel Hayes
by
Marcus Sakey
He is naked, half-drowned, and doesn't know how he landed on this remote beach. Far worse, he has no memory of who he is. The only object in sight is an abandoned BWM. The man pulls himself in, shivering violently, and cranks up the heat. He finds a Rolex watch, a bottle of booze, an envelope of cash, and in the glove compartment, vehicle registration in the name of Daniel Hayes. And a gun. Eventually, in the Beemer's trunk he finds dirty clothes. They fit him. He decides he's Daniel Hayes of Los Angeles, California. He has absolutely no idea how he wound up in Maine.
Exhausted physically and emotionally, he wants nothing more than to sleep. The cash buys him a couple of nights in a cheap motel room. No closer to remembering his identity, he's trying to figure out his next step. Then the cop shows up at his door. He runs, asking himself, "Why had he run?
More important, why was he chasing you? Who are you? Who were you before you woke up on that beach?"
These are the first of many questions he'll ask himself. Later, "What if you were a bad man? A criminal, a killer? Are you that person still?"
He has a long journey to unravel his identity, and to tell more wouldn't be fair. Sakey's brilliant premise puts readers smack dab in the protagonist's shoes, searching right along with him for the clues that will piece his history together. Details unravel at a satisfying and believable pace, and along the way there are a few jaw-dropping shockers. It's a different kind of a mystery, and Sakey held me rapt until the final revelations. The writing and characters were strong, and the plot was complex and clever. This is a beach read it'll be a pleasure to recommend all summer long.