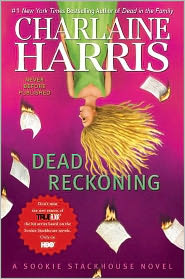 Yes, I promised this was coming, and here we are. This is the 11th book in Charlaine Harris's Sookie Stackhouse Southern Vampire series, which is, of course, the basis for the HBO series True Blood. Either you want this book or you don't, and I don't think there needs to be any selling on my part.
So, here's what I'm going to do that's a little different this week... I'm hoping this will be a popular giveaway, as the book is at the very top of the bestseller list. So the deal is, the more people that enter this contest, the more copies I'll give away. If ten people enter, I'll give away one copy. If 20 people enter, I'll give away two. Right up to five copies. I doubt we'll have more than 50 entrants. (But it would be awesome if we did!) Other than that, normal rules apply:
The giveaway is open to anyone with a U.S. mailing address ('cause I'm footing the postage).
To enter, all you need to do is post a comment below by Wednesday, June 15, 2011.
At my discretion, if there are less than five respondents, I can cancel or extend the giveaway.
Winner(s) will be chosen by me with the help of a random number generator, and will be announced in the comments section of this thread.
Please check back to see if you've won. If you have left a way to contact you, I will do so.
The winner has one week to respond to me at suetu@yahoo.com with a mailing address, or I will choose a new winner.
If a second winner fails to respond, the book automatically goes to the lovely members of my face-to-face book club.
Previous giveaway winners are welcome to enter.
Finally, if at all possible, please comment below only if you're entering the giveaway.
And a final bonus: This is a few minutes of the speech Charlaine Harris gave at BEA two weeks ago. I'm sorry it's totally out of focus. Flip Cams aren't designed to focus at that distance. However, you can hear everything she says, including her response to all the publishers who passed on her books. Enjoy!