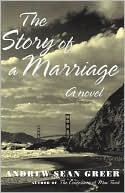 So, earlier this week in my
Mailbox Monday post
, I mentioned purchasing a long-overdue replacement of my copy of
Andrew Sean Greer
's
The Story of a Marriage
, and I told you that I'd write about how the two of us met...
Google is an amazing thing. At the click of a mouse, it tells me that Andy and I met on July 19, 2002, because that is when the San Francisco Symphony presented a staged concert performance of Leonard Bernstein's Candide. It was a not-to-be-missed event, starring George Hearn, Jason Danieley, Jennifer Welch-Babidge, Keith Phares, Rita Moreno, Marin Mazzie, and Stanford Olsen. I was still new to San Francisco, in town less than six months, so I grabbed a cheap ticket and went by myself. As it happened, I was seated next to an adorable young man who was also there by himself. You got it; it was Andy.

Me and Weasel, back when I could still afford haircuts.
 I don't remember exactly how our conversation started, or who made the first overture, but we had a lovely discussion through the first intermission. Along the way we discovered that he was a writer, and I was an editor. (I think he was working on some catalog copy, at the time, to pay the rent. I was probably temping.) We discovered that we are from the same town in Maryland. Small world! Also, we enjoyed some of the same authors. You know, this is just now coming back to me... I'd been with
Christopher Moore
earlier that same day; in fact, I think I had an early dinner with him and Chuck and some booksellers. I'm guessing by the date that we may have hooked up at San Francisco's Books by the Bay, because Chris and Chuck weren't living in SF at the time. And if so, this is
exactly
what I looked like, because either Chris or Chuck took this photo on that day.
Anyway, the young man and I had started the most delightful conversation during the first intermission, and at some point in the second intermission, I suddenly remembered my manners. I said, "I'm Susan, by the way." And he said, "I'm Andy." Right then, some distant synapse fired. I'm still not sure how I made the connection, but I looked at him and slowly said, "Andrew Sean Greer. I bought
The Path of Minor Planets
ten days ago." And I had. Let me back up.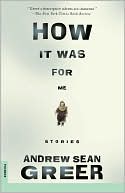 Several weeks earlier, I had attended a literary event at the San Francisco Public Library. It was to be a reading and a discussion of the short story between Pulitzer Prize-winning novelist, Michael Chabon; editor of the Chronicle's books section, Oscar Villalon; and some guy no one had ever heard of, Andrew Sean Greer. On the day of the event, the theater was packed, and I can guarantee you that 95% of the people were there to see Michael Chabon. The Pulitzer was still shiny and new at that point. So, we're all waiting and waiting for this event to start, but there seems to be some sort of delay. I can't remember how late it was, or how many stalling announcements were made, but eventually it became clear that Chabon wasn't there, and no one could find him! Finally, Villalon and this brave unknown guy came out on their own, and Michael never did show up that night. It turned out later it was some sort of major scheduling SNAFU. So, Andrew Sean Greer read an entire story from his debut collection,
How It Was For Me
. It was a good story, and he read it well.
Then he sat down for a most enjoyable conversation with Oscar Villalon, and surely got more attention than he was ever expecting on that particular evening. In addition to discussing short stories, Andy mentioned his debut novel,
The Path of Minor Planets
. And two things must have happened that night: He impressed me, and the title stuck in my head. Because weeks later when I saw a nice hardback copy at
Green Apple Books
, I bought it.
I hadn't yet had a chance to read it that evening at the Symphony, but just then, all the pieces came together. I said his name and the title of his novel and Andy's mouth dropped open. That was the first time he'd
ever
been recognized in public. I probably would have figured it out sooner, but between the reading and the night we met, he'd cut off his beautiful blonde curls. (Ladies, he had hair that you just wanted to run your fingers through! In fact, I think I did just that some time later when the curls briefly resurfaced. They haven't been seen since.) Then I'd told him that I'd been at the "Chabon" event, and got the full scoop on what went down that evening. As it happens, Michael felt so badly about the SNAFU that he and Ayelet had Andy over for dinner to apologize, and they've been good friends ever since. I also knew Michael Chabon well enough to say "hello," so we talked about him, and laughed that all three of us are Marylanders. A really small world.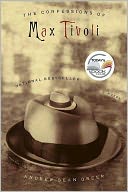 So, Andy and I chatted right through the end of the evening, and we walked out together. If this were a romantic comedy, we'd have lived happily ever after. But it's San Francisco, and Andy is very happy with his husband, LOL. God, it's almost a decade since that night. Andy was unknown by all but the very geekiest back then (i.e. me). In the years since, he's written the highly-acclaimed
The Confessions of Max Tivoli
, an absolutely brilliant book, followed by
The Story of a Marriage
, his only work I haven't read. It's been a few years since then, and every time I see him, I ask about the next book. I'm sure he loves that.
Oh, that's right, we still see each other. Not socially. We're not dear old friends. But we're friendly. We live in the same city, and travel in bookish circles. We bump into each other a couple of times each year, there are rare emails, and I'm always greeted with a warm hug. He's a very nice guy. And he's one hell of a writer. If you haven't read him, I urge you to check him out. Or, if you've read only the later work, do explore the lesser-known early works. You'll be so glad you did! As for why I seem to attract novelists to me at all times and places, I simply can't explain it.
As a final treat, I leave you with some video of the night Michael Chabon interviewed Andy for City Arts and Lectures.