Happy Mailbox Monday!
And by the way, this is my new favorite mailbox photo. What do you think? So, this was a quieter week around the old mailbox. In fact, this would have been the shortest Mailbox Monday post yet... if it were not for the Friends of the Public Library 50th Anniversary sale. The sale was going on for five days, and I stayed away until the very final hours, hoping all the good books would be gone. But who was I kidding? There are always good books left, and among the 18 books I got for a dollar a piece, there were some treasures!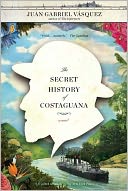 The Secret History of Costaguana
by Juan Gabriel Vasquez
Release date: 6/9/2011
Source: Paper galley from publisher
Uh, I think I need to read some Conrad before I even think of tackling this one.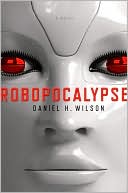 Robopocalypse
by Daniel H. Wilson
Release date: 6/7/2011
Source: Paper galley from publisher
Oh, I had a good laugh when I saw the absurd cover and title of this forthcoming novel about a war between machines and humans. Especially once I read this jacket copy: "...an entertaining and engaging thriller unlike anything else written in years." Aside from just being bad copy, how many examples can you think of of something exactly like that being written? It's a science fiction trope! But then I read this little item: "Steven Spielberg will direct Robopacalypse as a major feature film to be released in 2013." So, looks like this is getting the big publicity push, coming to a bestseller list near you this summer. I may have to read it, if only to ridicule.
Thrillers: 100 Must-Reads
edited by David Morrell & Hank Wagner
Release date: 7/5/2010
Source: Finished hardback courtesy of contributor Katherine Neville
Thank you, Katherine! The book came in record time, and I haven't been able to keep my nose out of it. How is it possible I never purchased a copy? It is awesome! And just the thing to read leading up to this summer's Thrillerfest.
My top finds at the Friends of the Public Library sale:

Syrup by Max Barry

Okay, I am going to forgo my usual format with release dates and the like or this will take me forever. Careful readers may recall me mentioning that I'm a huge fan of Australian humorist Barry in last week's Mailbox Monday post. I've been a fan ever since this debut novel, Syrup. I loved it! And every time I see a hardback copy, I scoop it up. I've discussed this with Max. There were only like 3,000 hardbacks printed of this quirky debut by a then unknown foreign writer. Of those 3,000, I have owned four, this latest acquisition being the fourth. Max has already signed the first three, and I hold them to be bestowed on only the most worthy friends. I gave one of the copies to Sara Leigh, and I have two other signed copies at home. This new one is in the best condition of them all! I hope he tours the U.S. for the new novel. I can't wait to get this one signed too. Book by book, I'm acquiring a significant percentage of that print run!

The Last Samurai by Helen DeWitt

This is one of those novels spoken of reverently by well-read individuals. Funnily, the opening line of the jacket copy says it's "destined to become a cult classic," and damn if it didn't do exactly that! I found a pristine hardback copy at the sale yesterday, and grabbed it without reading the jacket copy or having the slightest idea what it's about. Now that I've read the book's description, I'm even more excited to dive in!

The Bachelor's Cat by L.F. Hoffman

When I lost my beloved Weasel nearly a year ago, I asked some well-read online friends for book suggestions that might cheer me a bit. The description of this tiny novella really appealed, but it was out of print. I found a lovely hardback copy at the sale. I'm sure to devour it in the near future.

Sea Hunter by Paul Garrison

Anyone who knows me at all knows that I'm obsessed by "trashy underwater fiction," a genre coined by me. I always tell people that I started reading the stuff back when I was the editor of a dive magazine to blow off steam, kind of like the folks that enjoy laughing at B-movies. (And I'm a huge fan/collector of trashy underwater films, as well.) But the truth is, I've loved this stuff since earliest childhood, and the seventies was a great decade for TUF. Thank you, Peter Benchley! I haven't subjected you to this obsession too much on the pages of this blog, but you'll see it. Finding this book thrilled me, as only a really good TUF find can. (I have hundreds of these books on dedicated shelves at home.) Years ago I was discussing TUF with Justin (Paul Garrison's real name is Justin Scott) and he told me to find this book. Look at that eye! I can't wait to read this! Well, I didn't wait. I read the first three chapters in the bathtub last night. Other than a complete failure to understand marine biology, it's awesome! I promised myself not to pack any paper books for my trip to BEA, but I think I need to read this one on the plane.

More Trashy Underwater Fiction:

The Sea Lady by Margaret Drabble

Trashy Underwater Fiction doesn't actually have to be trashy. That's part of the paradox of it. So, I have no idea how I missed this 2007 novel about a marine biologist from Margaret Drabble. But my surprise about that is dwarfed by being stunned to discover, this very minute, the existence of an obscure 1902 novel by H.G. Wells entitle The Sea Lady: A Tissue of Moonshine. It's a mermaid tale, and I've never heard of it before! Suffice it to say, I found a free copy online, and it has already been uploaded to my Kindle. It will show up in next week's mailbox. This is what keeps collecting exciting!

Emerald Sea by John Ringo

This is an author who, without ever having read him, I sort of dislike. I don't remember the exact reason, but I think he wrote (badly) a novel with a somewhat offensive premise. But, here's a mermaid tale, and as noted above, I'm a sucker for mermaid tails tales. No pun intended.




Some stitching references:

Embroidery (French Chic)

This book had no author listed, but has several nice designs, mostly in embroidery styles I've yet to learn (freestyle, crewel, etc.), which is part of the appeal. I'd like to do a little experimentation. Also, it featured cute ways to embroider clothes, tablecloths, and other plain items.

More Needlepoint by Design by Maggie Lane

See that Japanese fish design on the book's cover? I love it! I want to stitch it! I've been kind of slacking on my embroidery lately, but just looking at projects like this makes me want to pick my needle back up!

Needlepoint: The Art of Canvas Embroidery by Mary Rhodes

This book looks to be decades old, but the great thing about pursuing an art form that's centuries old is that nothing ever becomes truly dated. Here's another book full of inspiring projects. I love growing my reference library at a dollar a pop.



Nice editions of literary fiction:

That Old Cape Magic by Richard Russo

Jon has, quite rightly, pointed out how shameful it is that I've never read Richard Russo. Perhaps having two shiny new hardbacks in the house will move him up higher on my TBR. At the very least, it will class up my bookshelf. Now Empire Falls won't feel so lonely. :-(

Bridge of Sighs by Richard Russo

One day I will get to Italy. And I will have to read this book leading up to my trip.

The New Yorkers by Cathleen Schine

New York, on the other hand, is a destination I'm jetting off to every other minute, and I always enjoy a good New York story. I'm especially looking forward to reading this Schine title I overlooked, as The Three Weissmanns of Westport was one of my favorite reads last year.

Jenny and the Jaws of Life: Short Stories by Jincy Willett

I loved Jincy Willett's debut novel, the audaciously titled Winner of the National Book Award. It was dark and hilarious. David Sedaris loved this collection so much that he wrote a foreword for it. I've always meant to read it.

People of the Book by Geraldine Brooks

For reasons I'm completely unable to explain, I still have not read this book. Again, maybe now that it's in the house it will move up the TBR list.






Finally, some genre and other fiction

The Years of Rice and Salt by Kim Stanley Robinson

I had dinner with Stan (as he is known) and several other novelists the weekend before last. He is smart, charming, and easy on the eyes--which is reason enough to pick up his books. But I've enjoyed some of his speculative fiction (Antarctica) very much in the past. I have an old beat up paperback of this book in the house, but let's face it, I'm never going to read that copy. Maybe I'll read this one. Oh, and maybe I'll get around to blogging about our lovely evening one of these days.

And Another Thing... by Eoin Colfer

I do so love DNA's Hitchhiker books. Everyone says don't read this one, but I find resistance to be futile.

Mammoth by John Varley

I have no recollection of how I came to read this time travel thriller a few years ago, but I really, really liked it. I always wanted a hardback copy for my permanent collection. Now I can give Jimbo my paperback like I promised however many years ago. Time travel--it's the only science fiction trope I really like.

The Sugar Queen by Sarah Addison Allen

We've been discussing Allen's works this month on Play Book Tag. This one is supposedly not as good as her first novel and not as bad as her most recent. What intrigues me about this book is that one character has books magically appear just when she needs them. Everyone agrees that I have almost the same power!

Alas, the magical book drawing power is a dangerous thing. For starters, it makes Mailbox Monday a tedious slog. I'll warn you for next week: seven books arrived in my hands today. I need to move some books out the door! Count on Humpday Giveaways for the next few weeks. In fact, I may even put together prize packs of multiple books to give away.

I'm exhausted. Ironically, I've begun looking forward to the day when my mailbox is empty. Surely, there will be no books one week? No wonder I can't find the time or energy to write my book reviews...
Books finished this week:
The School of Night by Louis Bayard
The Devil Colony by James Rollins - Count on me repeating over and over how AWESOME this book it!
Currently reading:
The Tragedy of Arthur by Arthur Phillips - This book is excellent, but not a title to be gulped down as I've been doing lately. I am reading it thoughtfully and taking my time--and gulping down other books on the side.

Thrillers: 100 Must-Reads by David Morrell & Hank Wagner

The Two Deaths of Daniel Hayes by Marcus Sakey

So, if anyone is still reading, what books did you acquire this week? What are you reading? Let me know in the comments!