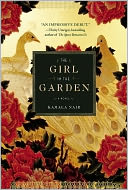 The Girl in the Garden
by
Kamala Nair
There are a million stories in the naked city, and a million writers trying to get them published. At times like this, I really have to wonder:
Why this one?
How was it that author Kamala Nair won the golden ticket? Because I just don't see it.
The novel opens in the present day in the form of a letter from first person narrator Rakhee to her fiancée. "By the time you read this, I will be flying over the Atlantic on my way to India. You will have woken up alone and found the diamond ring I left on the bedside table and beneath it, this stack of papers you now hold." Okay, already I find her unsympathetic because that "stack of papers" is in fact the 300-page manuscript that makes up the novel. Premeditate much, Rakhee? Well, never mind adult Rakhee because this is a coming of age tale about the summer that Rakhee turned 11. It was a pivotal season in her life and as she explains (in absentia) to her fiancée, until she comes to terms with her past, she can't move forward with their marriage.
Rahkee is of Indian descent, born in America. She was raised among the blondes of Minnesota, so it's no wonder she felt like an outcast. She's a lonely, artistic girl, more close to her scientist father than her indifferent and depressive mother. During a time of heightened family tensions, Rahkee's mother decides it will be good for them to spend the summer in rural India with her family. There Rakhee meets aunts, uncles, cousins, and the grandmother she hasn't seen in years. At first, it's a happy time of finally belonging. But there are dark undercurrents at the family home. Why have the children been warned away from entering the jungle behind their home?
Rakhee is not so suspicious or easily manipulated as her cousins, and before long she has discovered a mysterious cottage surrounded by a beautiful garden, all behind a tall, locked fence. And, she eventually discovers the deformed girl who is the cottage's sole resident… Are you fully appreciating the references to The Secret Garden yet? That is just one of the many motifs in this dreary melodrama.
Why dreary? I really didn't find this book well-written. I'm not specifically speaking of Nair's use of language, but what she did with her words. I found the pace frequently plodding, the dialogue occasionally cringe-worthy ("I've been dreading this, but it has to be done. People will talk if I don't go and see them and act as if everything is normal. Stupid gossips."), the imagery heavy-handed ("The entire garden had transformed into a crumbling shell of its former self."), the "secrets" and twists to be obvious and telegraphed, the melodrama to be over the top, and the devices for plot exposition to be excruciatingly obvious and poorly done (e.i. lonely elderly relative regurgitates family history, and multiple drunken confessions). Actually, the over-the-topness did help pick up the pace of things as the novel approached its climax. I was grateful for that, at least.
I think this could have been a rich, exotic tale in a more experienced writer's hands, but alas, this is a debut I could have skipped.