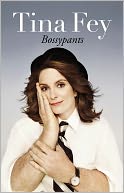 Bossypants
by
Tina Fey
Last weekend I had the great pleasure of listening to Tina Fey's book Bossypants read by the author herself. Not only is the lady fantastically funny, she's also got something to say. Plus, on the audiobook, she does the Sarah Palin parts in her Sarah Palin voice. And, if you're anything like me, you'd be very interested in Fey's own take on the Palin phenomena and her role in it. Fey isn't writing a straight memoir here. The breakdown is something like this:
46% Celebrity memoir
28% Essay collection
12% Feminist manifesto
9% Stand-up routine
5% Self-help manual
She does cover the major highlights of her life (roots, family, education, career, marriage, motherhood, and miscellany) in a semi-chronological fashion. The book is made up of two dozen or so short chapters, each an essay. Some of the essays are very personal, such as a portrait of her father, or the tale of her disastrous honeymoon. Others were about female empowerment, such as chapters on body image and the fact that women can be just as funny as men.
Speaking of funny… I don't think it will come as a surprise to anyone that Tina Fey is hilarious. I laughed out loud through this entire book. I'm sure it was all the more amusing coming straight from her mouth. (By the way, I was surprised to learn that she's not a half-bad mimic. She does a passable take on Lorne Michaels, Alec Baldwin, Amy Poehler, and other recognizable friends she quotes within the text.) While some chapters were incidentally funny, a handful of them were loosely disguised comedy bits.
It was amusing the way she kept divorcing herself from celebrity. She spoke about glamorous movie stars as though she hasn't made the lists of Hollywood's most beautiful and powerful. Somehow she's retained an everywoman quality that leaves her relatable and approachable. By the end of this slight book, I felt I knew a lot more about Fey. I liked and respected her even more than I had going in. And I was thoroughly entertained. I can't ask more than that.