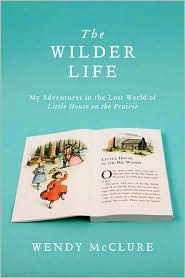 A few weeks ago when I received the galley of this book, I discovered that there are a lot of people with much stronger feelings about the works of Laura Ingalls Wilder than me. As lovely a book as
The Wilder Life: My Adventures in the Lost World of Little House of the Prairie
by Wendy McClure appears to be, I'm convinced that there's someone out there who will enjoy it a whole lot more than I will. (Please note: I am giving away a trade paperback galley, not a finished hardback.)
In their starred review of this book, PW wrote:
Obsessed with Laura Ingalls Wilder and her Little House books about an 1880s pioneer family, children's book editor and memoirist McClure (I'm Not the New Me) attempts to recapture her childhood vision of "Laura World." Her wacky quest includes hand-grinding wheat for bread, buying an authentic churn, and traveling to sites where the Ingalls family attempted to wrest a living from the prairie. Discovering that butter she churned herself was "just butter," McClure admits she "felt like a genius and a complete idiot at the same time." Viewing a one-room dugout the Ingallses occupied that was "smaller than a freight elevator" prompted McClure to admit that "the actual past and the Little House world had different properties." McClure finally tells her boyfriend, "I'm home," after recognizing that her travels stemmed from her reaction to the recent death of her mother. Readers don't need to be Wilder fans to enjoy this funny and thoughtful guide to a romanticized version of the American expansion west.
Other than that, the giveaway rules are the same as always:
The giveaway is open to anyone with a U.S. mailing address ('cause I'm footing the postage).
To enter, all you need to do is post a comment below by Wednesday, May 4, 2011.
At my discretion, if there are less than five respondents, I can cancel or extend the giveaway.
Generally, giveaways start on a Wednesday, and end one week later.
Winner will be chosen by me with the help of a random number generator, and will be announced in the comments section of this thread.
Please check back to see if you've won. If you have left a way to contact you, I will do so.
The winner has one week to response to me at suetu@yahoo.com with a mailing address, or I will choose a new winner.
If a second winner fails to respond, the book automatically goes to the lovely members of my face to face book club.
Finally, if all all possible, please comment below only if you're entering the giveaway.
Previous giveaway winners are welcome to enter.
Good luck!