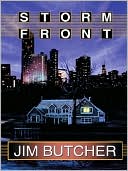 Storm Front (The Dresden Files, Book 1)
by
Jim Butcher
After the recent disappointment of
A Discovery of Witches
, it was, perhaps, an odd choice to dive into another book that featured wizards, witches, vampires, and demons. The thing is, I couldn't help it. I got sucked in. I'd had the audio book sitting on my Kindle for a while, and when the opportunity to get a bargain on the next book in the series arose, I decided to listen to a few minutes of this one to see if I liked it. Eight hours later, it turned out that I did.
At this point, surely everyone knows that this is the first book in the wildly popular Dresden Files series. The series is named after the books' protagonist, Harry Blackstone Copperfield Dresden—named after three magicians, and at this time Chicago's only professionally practicing wizard with an ad in the yellow pages. He's a finder of lost items, and an instigator of paranormal investigations—no love potions. What he really is, is a classic hard-boiled PI with supernatural trappings.
In this first case, a cash-strapped Harry has two jobs going at once. One is a missing persons case of sorts, taken on behalf of a damsel in distress. Harry can't resist 'em. The other is a consulting job for the Chicago PD. Lieutenant Karen Murphy uses him for cases dubbed "unusual." A double homicide in which the victims' hearts literally exploded from their chests' by means unknown certainly meets the requirement.
This wasn't the greatest mystery I've ever read. I could see some of the plot twists coming a mile away, but it was a strong and entertaining debut novel. Things moved at a fast pace and Harry's a winning, if world-weary, character. Buffy alum James Marsters does a really nice job of bringing Harry, Bob, and the others to life in the audio book version I listened to. I don't feel the need to run out and read the subsequent umpteen books right now, but I would certainly consider working my way through them as a break from my usual fare. This was an enjoyable start, and based on the series' success, they only get better from here.