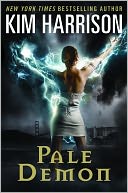 Well, I said that I'd continue to give away books fairly regularly, and my good friends at Harper Collins are helping me keep my promise. This moring they sent me a lovely care package full of all sorts of goodies, and including a fresh off the printer hardback copy of Kim Harrison's latest.
Now, I've never read Ms. Harrison, and starting on the 9th book of the series seems like a bad idea. Besides, I'm kind of spoiled on witches at the moment (a statement that will make sense once you see my next post). So, I was thinking that someone out there in the blogosphere would enjoy this book more than I would.
It's the same rules as always. Please post a comment below by 8:00am on Monday, March 14th to be entered to win this book. The giveaway is open to anyone with a U.S. mailing address. (Sorry international readers, but I'm footing the shipping!) With the help of a random number generator, I'll draw a name at random. The winner has one week to get a mailing address to me, after which I'll draw a second winner. After that, the book defaults to my book club. :-) Good luck!