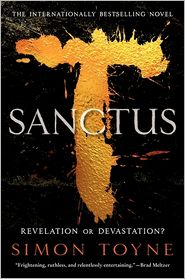 Sanctus
by
Simon Toyne
Once upon a time, I used to describe myself as, "the person who read Dan Brown before The Da Vinci Code." Subsequent to the unprecedented success of that novel and its many, many "Da Vinci clones," I've been completely burned out on religious thrillers. Until now. Kudos to Simon Toyne on a highly entertaining debut novel, and for writing a religious thriller that didn't feel like the same old thing.
Most of Sanctus's action takes place in and around the historic Citadel in Ruin, Turkey. I'm mildly amused to see that I'm not the only reader tricked into thoroughly Googling this fictional landmark in this fictional town. Props to Toyne for making his setting seem real enough that I asked myself, "Why don't I know about this place?"
In Toyne's reality, this Turkish Citadel on a mountain is perhaps the longest continuously inhabited place on earth. A sect of secretive monks has lived there since before the birth of Christ, studying, praying, and guarding their "Sacrament." The exact nature of that sacrament may be the most closely guarded secret on the planet. Only a handful of the hundreds of monks know the truth, and apparently some of the initiates to the inner circle can't handle the truth.
In the novel's opening pages, Brother Samuel is locked in a room after his traumatizing initiation. He knows they intend to kill him. Rather than die passively with the secret, he attempts a daring escape—climbing out the window and up an unscaleable mountain. Once he reaches the summit, Brother Samuel attracts worldwide attention when he plummets 1,000 feet to the ground on live television. His actions are as incomprehensible to watchers as they are tragic.
Back in the States, we have previously met newspaper reporter Liv Adamsen. She is mourning the absence of someone close to her. After 8 years, he has been declared legally dead. The connection between these two people was not immediately apparent to me, but when it is finally made clear, it is pretty darn cool. Other major and secondary characters are introduced along the way. Make no mistake, this is a book about plot, not character, but Toyne does such a good job cloaking his characters in hints of intriguing back stories that I continually wished to know more.
Given that this is a 500-page tale of a centuries-old struggle, Toyne does an exceptionally good job of containing the sprawl. The cast is made up of a manageable number of people. Toyne has plotted very cleverly. Everything and everyone is there for a reason. He does not indulge in the superfluous. And he keeps the story moving swiftly with short chapters, lots of white space on pages, and revelations at regular intervals. Rather than dwell on dreary theological issues, Toyne's tale is all about the action. He's written some very bloodthirsty monks and the body count is high. Will anyone make it to the end of the novel?
By the time the Sacrament is finally revealed, you've been given enough clues to have figured it out on your own. I did not realize before starting this book that it is the first volume in yet
another
trilogy. (And, I swear to God, publishers, you have to start warning unsuspecting readers about this before they invest their time in an unfinished story.) While the novel does come to a reasonably satisfactory ending of this arc of the story, it is clear that there is much more that remains to be told. I feel a bit torn about this. Clearly I enjoyed this novel. But I'm tempted to quit now and cut my losses. I don't feel that I absolutely must go on, and I'm somewhat grateful for that. I guess I'll read the description of the next novel and decide then if it's of interest.