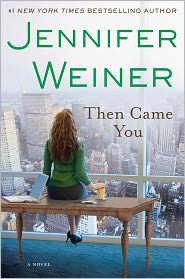 Then Came You
by
Jennifer Weiner
I've been a fan of Jennifer Weiner's since her debut novel. The first word that comes to mind to describe her work is "funny." She always seems to be able to find the humor in any situation, so clearly is was a deliberate choice to leave the funny out of her most recent novel.
Then Came You looks at surrogacy from a variety of perspectives. There's the 20-year-old college student who becomes the egg donor; the cash-strapped military wife and mother of two who acts as the surrogate; the gold-digging trophy wife who will be this miracle of modern science's mother; and also the trophy wife's adult step-daughter. Each of these women has very different lives, problems, strengths, and weaknesses, and each will play a vital roll in bringing this child into the world.
Ms. Weiner is an accomplished story-teller, so the story goes down easy. It's a quick, enjoyable read. I have read interviews where the author discusses some of the questions she had about the economics involved in these transactions. These are interesting questions, worthy of exploration. And these issues are explored within the novel, but gently. Story wins out over social agenda.
As noted, I did find Then Came You to be a diverting read, but I will be hoping for a few more chuckles in the next novel. Still, Jennifer Weiner is among the very best at telling contemporary women's stories.