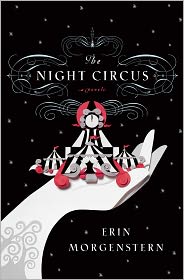 So, did you happen to see
the love letter of a review
I posted for this novel yesterday? I've read about 80 books so far this year, and this is far and away my favorite so far! And I'm thrilled to have a trade paperback galley of the novel to give away. Plus, I'm looking forward to seeing Ms. Morgenstern on Friday, so hopefully it will be a
signed
galley!
Oh, and if you don't believe my raves, check out this starred review from Publisher's Weekly:
Debut author Morgenstern doesn't miss a beat in this smashing tale of greed, fate, and love set in a turn of the 20th-century circus. Celia is a five-year-old with untrained psychokinetic powers when she is unceremoniously dumped on her unsuspecting father, Hector Bowen, better known as Le Cirque des Rêves' Prospero the Entertainer. Hector immediately hatches a sinister scheme for Celia: pit her against a rival's young magician in an epic battle of magic that will [Spoiler redacted for your own good.--ST] What neither Hector nor his rival count on is that Celia and Marco will eventually fall in love. Their mentors--Marco's mentor, Alexander, plucked him from the London streets due to his psychic abilities--attempt to intervene with little success as Celia and Marco barrel toward an unexpected and oddly fitting conclusion. Supporting characters--such as Bailey, a farm boy who befriends a set of twins born into the circus who will drastically influence his future; Isobel, a circus employee and onetime girlfriend of Marco's; and theatrical producer Chandresh Christophe Lefèvre--are perfectly realized and live easily in a giant, magical story destined for bestsellerdom. This is an electric debut on par with Special Topics in Calamity Physics. (Sept.)
I've become a
rêveur
. And I already want to read the book again. So, the usual rules apply, and I wish you all good luck!
The giveaway is open to anyone with a U.S. mailing address ('cause I'm footing the postage).
To enter, all you need to do is post a comment below by Wednesday, September 21, 2011.
At my discretion, if there are less than five respondents, I can cancel or extend the giveaway.
Winner will be chosen by me with the help of a random number generator, and will be announced in the comments section of this thread.
Please check back to see if you've won. If you have left a way to contact you, I will do so.
The winner has one week to respond to me at suetu@yahoo.com with a mailing address, or I will choose a new winner.
If a second winner fails to respond, the book automatically goes to the lovely members of my face-to-face book club.
Previous giveaway winners are welcome to enter.
Finally, if at all possible, please comment below only if you're entering the giveaway.