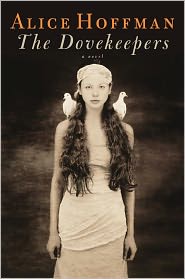 Happy New Year, readers,
Shana Tova
! On the Jewish calendar, year 5,772 begins at sunset this evening. In celebration of Rosh Hashanah, we're delving into a little Jewish history this week. It's not on sale until next Tuesday, but we're giving away a galley of Alice Hoffman's The Dovekeepers now. Here's a description of the novel:
Over five years in the writing, The Dovekeepers is Alice Hoffman's most ambitious and mesmerizing novel, a tour de force of imagination and research, set in ancient Israel.

In 70 C.E., nine hundred Jews held out for months against armies of Romans on Masada, a mountain in the Judean desert. According to the ancient historian Josephus, two women and five children survived. Based on this tragic and iconic event, Hoffman's novel is a spellbinding tale of four extraordinarily bold, resourceful, and sensuous women, each of whom has come to Masada by a different path. Yael's mother died in childbirth, and her father, an expert assassin, never forgave her for that death. Revka, a village baker's wife, watched the horrifically brutal murder of her daughter by Roman soldiers; she brings to Masada her young grandsons, rendered mute by what they have witnessed. Aziza is a warrior's daughter, raised as a boy, a fearless rider and an expert marksman who finds passion with a fellow soldier. Shirah, born in Alexandria, is wise in the ways of ancient magic and medicine, a woman with uncanny insight and power.

The lives of these four complex and fiercely independent women intersect in the desperate days of the siege. All are dovekeepers, and all are also keeping secrets—about who they are, where they come from, who fathered them, and whom they love. The Dovekeepers is Alice Hoffman's masterpiece.
In other words, a typically uplifting Jewish story. So, the usual rules apply. Good luck everyone, and have a happy and sweet New Year!
The giveaway is open to anyone with a U.S. mailing address ('cause I'm footing the postage).
To enter, all you need to do is post a comment below by Wednesday, October 5 12, 2011.
At my discretion, if there are less than five respondents, I can cancel or extend the giveaway.
Winner will be chosen by me with the help of a random number generator, and will be announced in the comments section of this thread.
Please check back to see if you've won. If you have left a way to contact you, I will do so.
The winner has one week to respond to me at suetu@yahoo.com with a mailing address, or I will choose a new winner.
If a second winner fails to respond, the book automatically goes to the lovely members of my face-to-face book club.
Previous giveaway winners are welcome to enter.
Finally, if at all possible, please comment below only if you're entering the giveaway.