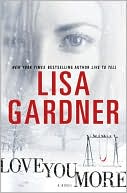 Love you More

It's been many years since I've read one of Lisa Gardner's novels. I think I read the first book in this series of five, but I'm essentially coming to Love You More as a stand alone. And while there would surely be more depth and resonance if I knew the entire history of Boston homicide detective D.D. Warren and state trooper Bobby Dodge, Gardner does a fantastic job expositing what the reader needs to know. Namely, that the two were once lovers, and that while there were some bruised emotions at one time, they're both happy with other partners now. Which is good, because they've been thrust together investigating a shooting. State trooper Tessa Leoni used her service revolver to shoot her husband of three years in the kitchen of their home. What might appear as an open-and-shut case of a battered woman snapping is complicated by the fact that Leoni's six-year-old daughter is missing.
The story is told in chapters alternating between Leoni's first-person narration and third-person omniscient from the D.D./Bobby side of the investigation. And it's clear, right from the beginning, that there's more to the story than Leoni is letting on. She freely admits that she is lying to the police within the confines of her own skull, but the knowledge that she alone holds is teased out only gradually throughout the novel. Meanwhile, D.D. and Bobby are racing against the clock to find an innocent child, and this case has really gotten under D.D.'s skin for reasons both personal and professional.

While police procedurals are not generally my favorite, I read a lot of mysteries and thrillers. Plus, I'm something of a smarty-pants; I'm good at figuring these things out. Let me be the first to admit that Lisa Gardner had me as bewildered as the cops in this intricately-plotted page-turner. Leoni's case is complex, sad, and hugely compelling. And even without having read all of the D.D./Bobby books, I found these characters to be richly drawn, appealing, and believable. I enjoyed this novel from start to finish, and now that I'm back in this world, it's going to be very hard to resist grabbing the next book in the series.