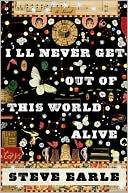 I'll Never Get Out of This World Alive
by
Steve Earle
I have no idea why I started reading this novel. Sure, being named Best of the Month on Amazon and the starred review in PW caught my eye, but the book's description just seemed unappealing. Still, I had a copy in hand, and it was invitingly short. I suspect I started reading merely to cross it off my to-do list. Holy happy surprises, Batman! This novel is going to be one of my favorite reads of the year, and surely the most unexpected. Who would ever believe a novel populated by junkies, prostitutes, and drug dealers could ever be so uplifting?
The novel opens on the wrong side of the tracks in San Antonio, Texas in 1963. At the heart of the story is Doc:
"He was Doc. Just plain Doc. With the exception of just a few isolated incidents involving the local constabulary, it was the only name he had answered to in years. Nobody on South Presa knew him by any other name.

Somewhere back in the Orleans Parish courthouse there was a fading piece of bond paper with an official-looking seal attached that said his name was Joseph Alexander Ebersole III and that he'd been born alive at 10:37 on the morning of January 17, 1910. The same name appeared elsewhere in the state archives as Dr. Joseph A. Ebersole, but there was an ugly red stamp across the face of the document declaring his license to practice medicine in the State of Louisiana had been permanently revoked."
Doc's been feeding a morphine habit for decades now. Having lost everything, he's made a home in a disreputable boarding house. He supports his habit by practicing back street medicine, performing illegal abortions; treating gunshots, knife wounds, STDs, and a variety of commonplace ailments. Early in the story, a Mexican girl named Graciela is brought to him for an abortion. Things get a bit dicey, and she requires some recovery time in his care, but it quickly becomes apparent that the thug who brought her in is never coming back to claim her. And so Graciela stays, and there is something of the miraculous about her, because she seems to affect everyone she touches for the better.
How the ghost of Hank Williams fits into this story is perhaps more than I'm prepared to explain in a brief review. Suffice it to say that there are elements of magical realism in the novel. And the story feels magical. This is not a light, whimsical tale—though it has its moments. The depiction of the hell of addiction is nightmarish, conveyed effectively by a writer who knows. No, a novel set in this world can only be so happy, but debut novelist Earle has peopled his story with indelible characters. In his capable hands, the dregs of society are fully humanized.
Oh, and for those who are wondering, yes, the author is the musician, actor, playwright, and political activist Steve Earle. How is it possible I was previously completely unfamiliar with this Renaissance man? Well, rest assured, he's on my radar now. I'll Never Get Out of This World Alive is the strongest debut I've read in quite some time. Earle's use of language is simply a joy to read. The subject matter of this story brought John Irving's The Cider House Rules to mind, as both are period novels that deal in part with illegal abortion. Irving's novel is an epic, while Earle's is barely more than a novella. And the stories told couldn't be more different. And yet… Mr. Earle may have captured a bit of Mr. Irving's tragicomic tone. And any comparison to John Irving is the highest praise I can offer. This is not the happiest story, but by the end, you'll be feeling hopeful and very grateful to have picked up the book.