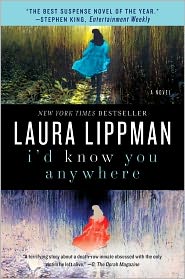 The very kind Megan at HarperCollins sent me a galley of Laura Lippman's wonderful stand alone thriller
I'd Know You Anywhere
in honor of the book's trade paperback release last week. What she didn't know is that I read the book when it was released in hardback last year. It was my first Lippman, and I loved it. Here's what I wrote at the time:
Once upon a time, Eliza Benedict was Elizabeth Lerner. Elizabeth became Eliza at the age of 15, after she was abducted for 39 days by spree killer and rapist Walter Bowman. She was the only girl who survived. In the years since that autumn, she's carefully guarded her privacy and done everything possible to move on with her life—with more success than most people who have never been traumatized. She's happily married to her college sweetheart, and the contented stay-at-home mom to two.

All of that changes with the posting of a letter. After 22 years on Virginia's death row, Walter Bowman has seen her photo in Washingtonian Magazine, and as he writes, "I'd know you anywhere." This first communication is the beginning of increasingly escalating contact from the inmate and his associates. What really happened all those years ago? And what does Walter want today? These are the questions that Laura Lippman sets before readers in this well-written, richly-characterized novel of suspense. The story being told unfolds beautifully, and as disturbing a character as Walter is, he's equally fascinating. And at times, I wasn't even sure if he was the biggest monster in the book.

After her long, celebrated career, this was my introduction to Laura Lippman's work. It won't be the last novel I read. How delightful to know she has an extensive backlist now waiting to be explored.
It's actually one of my more concise reviews. Okay, my mom really wants to read this book, so if there aren't at lease five people vying for this trade paper galley, it's definitely going to her. Otherwise, same old rules as always. Happy reading and good luck!
Rules:
The giveaway is open to anyone with a U.S. mailing address ('cause I'm footing the postage).
To enter, all you need to do is post a comment below by Wednesday, May 18, 2011.
At my discretion, if there are less than five respondents, I can cancel or extend the giveaway.
Winner will be chosen by me with the help of a random number generator, and will be announced in the comments section of this thread.
Please check back to see if you've won. If you have left a way to contact you, I will do so.
The winner has one week to respond to me at suetu@yahoo.com with a mailing address, or I will choose a new winner.
If a second winner fails to respond, the book automatically goes to the lovely members of my face-to-face book club.
Previous giveaway winners are welcome to enter.
Finally, if at all possible, please comment below only if you're entering the giveaway.