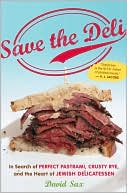 Save the Deli: In Search of Perfect Pastrami, Crusty Rye, and the Heart of Jewish Delicatessen
by David Sax
David Sax, the author of Save the Deli, does an admirable job illustrating the above, writing with both humor and appetite. The book was a labor of love for him, born of a fear that these institutions, and this part of the Jewish cultural experience, are disappearing. The evidence backs him up. Sax lists deli after deli that is no longer part of the landscape. It is these losses that propel his quest to visit the survivors, to evaluate the health of the deli in America and abroad, and to sample the wares as often as possible.
Like many readers, I suspect, the first thing I did upon acquiring this book is flip to the back to see if any of my favorite delis were listed. As it happens, I had eaten at more than a few. Even more delightfully, there was a whole chapter on my city: I Left My Kishkes in San Francisco. (Oh, the chapter titles made me laugh.) And, oh, what a pleasure to read about delis I frequent! But even for the readers who have never heard of David's Delicatessen, how could they fail to be affected by the story of the chopped liver? According to the menu, it's chopped exactly 1179 times. When Sax inquired about this oddity, David Apfelbaum pulled up his sleeve to show the number 1179 tattooed on his arm. As Sax commented, that's some twisted humor. Save the Deli is the story of the food, the culture, and also of the people Sax encountered along the way.
Sax proclaims New York "the world capitol of Jewish delicatessen." That's where he opens the book, leaping into his research behind the counter at Katz's Delicatessen. After a thorough exploration of the city's deli culture--past and present--he moves on. To Detroit, Chicago, St. Louis, Kansas City, Denver, Boulder, Salt Lake City, San Francisco, LA, Las Vegas, Scottsdale, Austin, Houston, New Orleans, Atlanta, DC, and Florida ("Where Deli Goes to Die"). And even further afield in Montreal, Toronto, London, Paris, and Krakow. You'd think with all that schlepping and all that kibitzing that chapters would get redundant, but Sax keeps things fresh, finding new delicacies, stories, history, and characters wherever he goes. (And for readers who have no idea what I just said, there's an amusing Yiddish glossary at the back of the book.)
I'll give the final words to Mel Brooks, a life-long deli fan who was interviewed for the book: "Delis are magnets for Jews, and Jews, in order to survive emotionally, have developed tremendous humor... Also, delis seem to be happy places. I've never seen anyone weeping at a table in a deli. I've seen them in cafes and smart restaurants dabbing their eyes, but I've never seen anyone crying in a deli. Never in a deli! No one ever has a bottle of Dom Perignon with their lover and says, `This isn't working out.' Cel-Ray tonic doesn't cut it."
Comment
Permalink