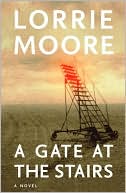 A Gate at the Stairs
by Lorrie Moore Given that it's been 15 years since Lorrie Moore's last novel, it is not that surprising that I have not read her previously. A Gate at the Stairs was my introduction to Moore's work. What an eye-opener!
Now many would disagree with me, but one of the things that distinguishes a great many of my favorite authors is their distinctive use of language. Frequently the writers I admire most are so stylistically idiosyncratic, that I could consistently identify their work without a name attached. Add Lorrie Moore to a short list with John Irving, Kurt Vonnegut, and a few others. In A Gate at the Stairs, Moore wrote about subjects covered by many writers, but at almost all times, I felt like she was writing about these people, these issues in a way that no other writer would ever tackle the subject matter. The word that came to my mind over and over was: revelatory.
The story of The Gate at the Stairs is both simple and complex. It is simply the coming of age story of an unsophisticated mid-western college student named Kassie Keltjin. Her life is complicated by a year of introductions to new people and ideas that kicks off when she accepts a position as nanny to a freshly-adopted mixed-race child. Issues of race, marriage, male/female relationships, family, friendships, identity on the deepest level, and terrorism in post-9/11 America are tackled.
Sometimes these issues are handled with sensitivity and finesse, other times with the subtlety of a sledgehammer. Some readers may have trouble with the more heavy-handed elements of the plot, but I was so interested in what Moore was saying, I was riveted at all times. Moore has a wonderful satirical eye, and what could be an overly heavy or melodramatic plot is leavened with her playfulness and humor. That said, there were parts of this novel that were staggeringly painful to read. While more character-driven than plot-driven, it must be said that a whole lot happens to Kassie as she begins her journey into adulthood.
I can't pretend that A Gate at the Stairs is without flaws. What I can say is that I was COMPLETELY absorbed in Moore's tale. If you ask me to list the novels faults, I can't do it. I couldn't say what the problems were. To ME, it was flawless. It's been a very, very long time since a writer has knocked me out like this. Every page or two there would be sequences just begging to be read aloud. I urge anyone who's serious about becoming a writer to spend some time with Lorrie Moore. I can't wait to explore her backlist!
Comment
Permalink