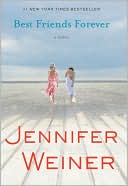 Best Friends Forever: A Novel
by Jennifer Weiner
At the age of 33, Addie Downs has survived more than her share of sadness and tragedy. But she's come through it stronger. While she lives a largely solitary life, she's made the most of the gifts she's been given and is taking positive steps to improve her lot in life.
Then the doorbell rings.
Addie is almost not surprised to see Valerie Adler, her childhood best (and only) friend, whom she hasn't seen in more than a decade. It was as if she'd always known this day would come: Valerie needs her help. It's the night of their high school reunion. A plan for casual revenge gets a little out of control, and Valerie may have hit an old nemesis with her car. She needs Addie to come with her for moral support as she returns to the scene of the crime.
So begins an odyssey into the past and into a new future for these two best friends forever. It's a Thelma and Louise-esqe road trip of laughter and discovery, and I defy you not to smile as you read it. Author Jennifer Weiner has struggled with the "chick lit" label for her entire career. Such dismissiveness doesn't acknowledge the way she brings her characters to life. Within pages, she's created wonderful, sympathetic, relatable characters. Sure the plot's a little outlandish, but Weiner's humor (infused in her creations) is irrepressible. At the end of the day, there's nothing wrong with reading something that simply makes you feel good.