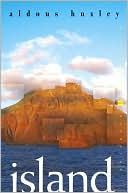 Island (Perennial Classics)
by Aldous Huxley
I have to admit that I didn't find this novel as transformative as some readers did, but I'm quite glad to have read it. Truthfully, it's not much of a story, but it sure will give you food for thought and I expect Huxley's ideas will stick with me for a long, long time.
The protagonist of Island is British journalist Will Farnaby. Will isn't an entirely likeable character as the novel opens--as is so often the case in these tales of redemption. In an attempt to escape his troubles, or possibly to escape himself, Will takes a day off from a Southeast Asian business trip to go sailing. A sudden storm sweeps in, and in the novel's opening pages Will realizes he's shipwrecked and injured. Luckily, Will has washed up on the exotic and little-visited island of Pala. This island-nation is a modern (or the 1960s version of it) Utopia.
Will is discovered by some children who promptly go for help. It arrives in the form of Dr. Robert MacPhail, one of the island's most respected citizens. Dr. Robert patches Will up, and he and other islanders indulge Will's curiosity about their home. Over the course of just a few days, they introduce Will to every aspect of their most extraordinary society. From family life, medicine, education, and rites of passage, Will learns about Palanese life from birth to death.
He meets many islanders, including the future Raja who is about to come of age, and his mother, the Rani. These two members of the ruling class have some very different ideas about how things should be on Pala. And their agenda may just tie in with a secret agenda of Will's own... It is this loose storyline that the plot consists of, but it's actually a very minor part of the novel--just a thread that runs through a lot of philosophy and sociology. Personally, I had a very limited interest in and tolerance for a lot of Eastern religious (mostly Buddhist) philosophy. But I really loved the sociological ideas Huxley put forth in his Utopia. Really, really interesting stuff! For another reader, it might be the reverse. One way or another, I really have to believe the novel would be of interest to any thinking person.
Comment
Permalink