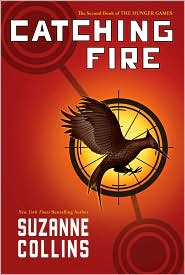 Catching Fire (The Second Book of the Hunger Games)
by Suzanne Collins
A year ago The Hunger Games knocked me out. I thought it was simply fantastic! I've been chomping at the bit to get at the sequel ever since. It was hard to imagine where Collins could go with Katniss's story, and how she could possibly top herself--but she did!
Catching Fire is an absolutely terrific sequel! Now, I'm not going to tell you much about the plot for your own good. It's an unfortunate truth that spoilers can't be unread. What I will say is that all the main characters from The Hunger Games are revisited or remembered, and a few new characters are introduced. Collins does a really bang up job moving the character development forward. The plot of Catching Fire delves far more into the politics of Panem, and the fall-out from Katniss's actions during the games.
Just about the midpoint of the novel, Katniss thinks to herself, "I have to admit I didn't see it coming. I saw a multitude of other things." Yes, me too! Collins writes a twist at the midpoint that caught me as off guard as it did Katniss. And I loved it! I'm on pins and needles for book three!
Comment
Permalink