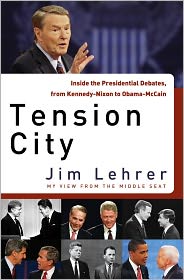 Tension City: Inside the Presidential Debates, from Kennedy-Nixon to Obama-McCain
by Jim Lehrer
40-Some years of water cooler moments
While as a Washingtonian I have always considered myself a political person, this is not a subject I have ever chosen to read about in books.
It was hearing Jim Lehrer speak about
Tension
City
at a conference, I think, that got me to pick it up.
That, and the unintimidating page count.
Still, I'm almost surprised by how much I enjoyed the book.
One of the things that worked for me is how personal the subject matter is to journalist Lehrer.
This isn't just a book about famous moments (and their aftermaths) in the last 40-some years of political debates; it's about Lehrer's personal experiences as moderator of 11 presidential or vice-presidential debates since 1988.
To that extent,
Tension
City
has elements of memoir, and a strong undercurrent of journalism within the subject matter.
Lehrer reflects on the highs and lows of his performances and those of his colleagues over the years.
I now have a far greater appreciation of the role of a debate moderator, and doubt I will watch future presidential debates with the same eyes.
Still, it's the politics and history that were most riveting, because these debates
did
change history.
Had he answered one question differently, might Michael Dukakis have had a shot at the White House?
We can never know, but there is room for speculation.
I so clearly remember so many of the moments that Lehrer singles out over the past several decades.
They were the water cooler moments that the entire nation was talking about the next day.
But here we have the added perspective of time as we look at these famous exchanges.
Plus, Lehrer has the prestige and the relationships to get the major players to speak frankly about events of the past.
So, for example, Lloyd Bentsen and Dan Quayle share recollections of "Senator, you're no Jack Kennedy."
This is the history of my lifetime.
I was fascinated.
Tension
City
is a brief book, and many serious political and history junkies will be looking for something more in-depth.
For them, this book might work as a light companion volume.
But for this reader, Mr. Lehrer's book was the perfect introduction to uncharted literary territory.