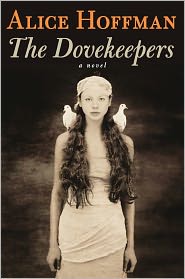 The Dovekeepers
by
Alice Hoffman
Let me start by saying that Alice Hoffman is a tremendously gifted writer. I love the magic and magical realism of her stories, and I think she has a good sense of people and emotions. At what she does, there are none better.
Still, when I grabbed a galley of The Dovekeepers at BEA, it definitely seemed like a departure from her typical work. In fact, the jacket copy made it seem as though The Dovekeepers was a passion project, "over five years in the writing." I have no doubt that Ms. Hoffman's heart was in the right place, but this reader is left with the thought that Masada didn't need the Alice Hoffman treatment.
Set in 70 C.E., this is the story of the Roman siege of the Jewish settlement at Masada, a mountain stronghold. Ms. Hoffman has humanized the historic events by telling the story in four parts through the first-person narration of four very different women. I went into this novel with the highest of expectations, but my ultimate response was quite negative.
I had several issues with the book, but probably the biggest was this—the tragedy at Masada is one of the most dramatic tales in all of history. There was no need to add witchcraft and fantastic elements. It's clear that Ms. Hoffman did a ton of research, and I don't expect that ancient Jews were just like contemporary ones, but I didn't even recognize the people she was writing about
as
Jews. They were like some kind of weird, superstitious pagans. And this is coming from a woman with absolutely no religious faith—but apparently I have strong feelings of connection to my Jewish history. And I felt she took tremendous liberties with a story that shouldn't have been altered out of respect. I was kind of offended.
For instance, the Jewish faith doesn't tend to dwell on any kind of afterlife. It's a vague concept at best. We focus on this life. However, Hoffman uses the phrase "world-to-come" 44 times in this novel! These people are obsessed with the afterlife. And there are plentiful references to ghosts, demons, magic, spells, witches, etc. I realize there
is
mysticism in Judaism—real Kabbalah, not the nonsense practiced by Christian celebrities—but it's a
tiny
part of the religion. And yet it seems to be all Alice Hoffman is able to write about.
Obviously, a lot of the issues above have more to do with me and my Jewish identity than the quality of the novel, strictly speaking. Beyond all that, the novel still has some problems. As noted above, the story is told through the voices and experiences of four different female narrators. I found the first narrator to be unlikable and unsympathetic in the extreme. I understand that redemption was a major theme of the novel, but it made getting into the story challenging. In general, I had a lot of trouble connecting to these women.
Finally, OMG, I can't believe how badly the endless exposition was handled! Truly dreadful. I could give you any number of examples, but here are a few:
"The settlement had been destroyed by the Romans. It was intended to be a paradise built by the Yahad, a group of believers from the Essene sect, Jews who practiced strict codes with fixed hours of prayer. It was said that our people had been cut into four quarters, each with their own philosophy, and then cut up four more times for good measure. Truly righteous, the Essenes has indeed cut themselves off from all others."
"My father came up to me and asked if it was my desire to be a zonah. I felt that he had slapped me. He compared me to the prostitutes who lived at the edge of Jerusalem and were willing to pull off their cloaks for anyone who would pay them, even Roman soldiers."
"Shirah was a practitioner of keshaphim, initiated into the secrets of magic. Our people believed that any item with a sun and a moon upon it must be taken to the Salt Sea and thrown into the water, but several women claimed to have seen such figures worn at the witch's throat."
I don't know that any other reader would respond to this novel the way that I have. (In fact, I welcome comments from other readers about the points I raised.) I see that, in general, The Dovekeepers has gotten extremely positive reviews. I'd much rather praise than criticize, but I just can't join the majority on this one. I will look forward to Ms. Hoffman's next effort. I am confident that it will be more to my liking.