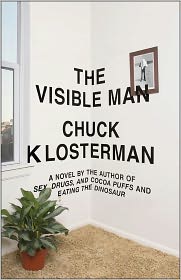 The Visible Man
by
Chuck Klosterman
Lauren Groff, Glen David Gold, Audrey Niffenegger—the list goes on and on. An author writes an exceptional first novel that rockets them to the top of my favorites list. Then commences that eternal wait for the follow-up; the wait to see if it was a fluke or what.
I
loved
Chuck Klosterman's debut novel, Downtown Owl. I laughed until I had tears in my eyes, and until he genuinely brought me to tears. Awesome. I've been awaiting his sophomore effort and hoping for more of the same. And I was fortunate—not only because I was handed an advance galley of this book by the man himself—but also because he warned me that this second novel is radically different in subject matter and tone than the first.
The Visible Man is a short novel in the form of an unpublished manuscript being submitted to Simon & Schuster, complete with cover letter and parenthetical notes to an editor. The author of the supposedly non-fiction manuscript is a therapist named Vicky Vick. The book she's written details the therapeutic and other interactions she had with the most extraordinary patient she will ever treat. Identified only as Y___, their initial sessions occur over the telephone. Y___ is very reticent to provide personal details, including the issue that has brought him to seek treatment.
Ultimately, the story comes out; supposedly, he's a scientist who designed, on his own, a suit that allows him to remain unseen by others. Effectively, he can become all but invisible. He has issues regarding "the sensation of guilt" brought about by actions he's undertaken when cloaked. Namely, he's been observing strangers alone in their homes without their knowledge. The story of both patient and therapist is relayed through her professional notes and observations, through transcripts of recorded therapy sessions, answering machine messages, and so forth.
On the one level, this is just plain, old-fashioned good story telling. You've got a psych patient who says he can become invisible. Is he delusional? What—if anything—that he says is the truth? Where is this story going to go? On another level, Mr. Klosterman, speaking in the voice of the enigmatic and troubling Y___, gets to engage in all sorts of interesting social and philosophical commentary, and to share the fascinating and bizarre stories of those he spies on:
"My earliest memories all involve staring at people and wondering who they actually were. Staring at my mom, for example, and wondering who she was and what she really felt, and how her mother-centric worldview compared to mine. I didn't know the definition of the word
worldview
, but I still had one. My mom was a different person around my brother and a different person around my dad and a different person on the telephone—why would I be the one exception who saw the real her?"
Or, "Our world is really backward, Victoria. It's backward. Look what society does. It takes the handful of people who know how to succeed and makes them feel terrible for being different. Everyone is supposed to be mediocre, I guess. Everyone is supposed to be dragged into the middle—either down from their success, or up from their self-imposed malfunction. These people didn't need a support group. These people needed someone to tell them they were okay."
This is not a comic novel as Downtown Owl was, but there is plenty of humor within the pages. ("Men who talk about the details of their sex life are not real people. I'm not a rapper. I'm not a Jewish novelist.") I don't think Mr. Klosterman knows how to be not funny. He does, however, know how to write. The benefit of having only the two principle characters in this story is that they become fully fleshed, even through this non-traditional narrative. Their relationship is a strange and intimate one.
Ultimately, this novel worked for me on many levels. It wasn't the book that I was hoping for, perhaps, but kudos to Mr. Klosterman for highlighting the diversity of his talent. Sophomore novels are so very often a let-down, but Chuck Klosterman remains near the top of my must-read list.