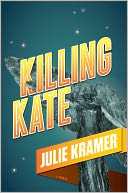 The headline above is an old Edward Gorey quote that I couldn't resist using. No, the eponymous Kate of Julie Kramer's fourth Riley Spartz mystery was actually bludgeoned with a baseball bat. So close. Kate's death basically opens the novel, and straight off the reader learns that she is the fourth victim of a serial killer. The authorities are not yet aware of this fact.
Local news reporter Riley has been lying off the violent crimes lately, since she had been making more news than covering it. But hearing the familiar address of this homicide, she grabs it before anyone can object. And her memory is correct. The crime happened at a house she once knew well. It was the home of her former college roommate, Laura, and the victim is Laura's younger sister, Kate. Kramer has the mechanics of creating suspense down pat. She keeps readers turning pages, ending chapters with lines like: "I didn't know yet that Kate had led a secret life, and that her secret did not die with her."
Riley and Laura, once the closest of friends, had split in a rift more than a decade ago. But this tragedy paves the way to an uneasy reconciliation. Investigative reporter that she is, Riley, of course, becomes far too involved in the hunt for this killer. As always, there's a "b" story in the novel involving an animal story her crazy news director wants her to cover. And the third narrative thread is Riley's long distance relationship with Nick Garnett.
I have outlined several things I like about this series in past reviews. I find Riley to be an immensely likable character with a distinctive voice. Reading each novel feels like visiting with an old friend. Also, I love the television news setting. I feel like I'm getting the inside scoop with each novel, and given the author's background, I guess I am. I can't watch a promo for the 11:00pm news with the same eyes after reading one of these books. It's fascinating! Plus, I like that while being fairly realistic, the novels aren't unnecessarily graphic. In other words, there's not too much sex and violence graphically depicted--which isn't to say there's none, but it's left more to the imagination.
One thing that was bugging me a little in this book was the relationship between Riley and Nick. There's always conflict between them, and conflict is what makes a great novel. But their relationship dynamics seemed a bit too simplistic and surface level. I guess four novels in, I'd hope for a little more depth there. But Kramer must be doing something right, because I'm always rooting for the two of them.
I don't know that I'd describe Killing Kate as a cozy mystery, but it's not entirely dissimilar. I bring this up, because while the mystery itself should not be predictable, there's a certain tone to these stories that is. Therefore, I have to tell you that the end of this novel shocked the hell out of me. And I LOVED it. Surprises are good. I have NO idea where this series is going next, but I will be the first in line to find out! Way to go, Julie Kramer!