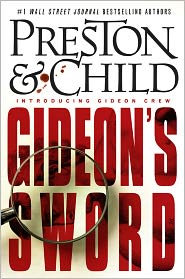 Gideon's Sword
by Douglas Preston & Lincoln Child
The quotation above refers to a secondary character in Gideon's Sword, but it just as easily describes Gideon Crew, the protagonist of a new series by Douglas Preston and Lincoln Child. The opening of this novel is a little unusual. The first fifty pages or so are basically an introduction to the title character, a man with a dramatic back-story. After two brief prologues from Gideon's past, the action moves to the present day, but as noted above, the real meat of the story doesn't begin immediately. It's a lengthy introduction to this not-Pendergast.
For those readers who weren't paying attention, the basics are summarized by a mysterious stranger offering Gideon a job soon after that introduction:
"The fact is, we know everything about you, Dr. Crew. And not just your burglary skills or run-in with General Tucker. We know about your difficult childhood. About your work at Los Alamos, designing and testing shaped high-explosive charges for nuclear weapons. About your proclivity for gourmet cooking. Your fondness for Hawaiian shirts and cashmere sweaters. Your taste in jazz. Your weakness for alcohol. And—when under the influence—women. The only thing we haven't been able to learn is how you lost the top joint of your right finger."
And actually, the job-offering mystery man
isn't
a total stranger… Rejoice fans, he is a character from the P&C pangea! (Well, at least
I
was heartened to see a familiar face in this new landscape.) The job Gideon is offered is short-term. It'll take about a week, and the payoff is big. He's basically doing a freelance job on behalf of the US government, and all they want is the impossible. The question is, with all of his singular and diverse endowments, can Gideon Crew deliver?
I don't really feel the need to summarize the specifics of the plot. This is a thriller. There's lots of action and suspense, some violence, intrigue, a hint of romance, and a fabulous antagonist. Preston and Child have been doing this for a long time, and they're very, very good at it. That said, I can't proclaim this to be their strongest work. I found the lengthy introduction of the character to be slightly indulgent. Also, in general, these two gentlemen are excellent prose stylists—especially given the demands of their genre—but here the writing seemed a bit choppier than usual.
These small criticisms aside, I had a ball reading this novel. It really was everything I've come to expect from Mssrs. Preston & Child. The story is fast-paced and thoroughly entertaining. I defy you to not have fun while reading this novel. And I emphatically believe that a change of pace from "all Pendergast all the time" is a good idea. I think the introduction of this new series will add freshness to future stories in both franchises.
I'm intrigued by Gideon Crew. The truth is, we've barely scratched the surface on this guy. What other untapped talents does Dr. Crew have? Will he be doing further freelance jobs? How
did
he lose the end of his finger? I don't know—but I'll be waiting with bated breath to find out.