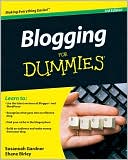 Blogging for Dummies
by Susannah Gardner & Shane Birley
No, really, a BIG dummy because I've been blogging for two years now! I got tired of looking at other people's awesome blogs and thinking, "Why can't I do that?" I finally admitted that I was a big, hopeless dummy and bought this book. God, I wish I'd done it sooner!
With two years of experience under my belt, I figured that I'd just skip around the book, picking out little nuggets of info here and there. On the contrary, I find myself reading the vast majority of the chapters in their entirety. The book is written in a pleasant and engaging style. I figure it can't hurt to do a little remedial work on the stuff I
think
I already know. Meanwhile, I'm just thrilled with what I've learned already. Don't laugh at the blonde girl, but links have always been a mystery to me. Now, I'm a pro! I've "claimed" my blog through Technorati. I'm committed to adding occasional guest blogger posts. I'm working on a simpler redesign of my blog, and I'm considering ways to add multimedia posts. I'm going to spruce up my sidebar and try to engage my community more. The great thing is that now I have a reference that will help me accomplish all of this and more.
My only complaint is that while this most recent edition (the third) is barely a year old, already some of the information is becoming outdated. I don't know if I'll spring for the fourth edition once it's published, but I'll definitely take a look at it to see what's new.
I have a list of friends waiting to borrow this reference book. It may not be the right tool for all bloggers, but it you're as clueless as I clearly am, Blogging for Dummies is highly recommended!
NOTE: I wouldn't normally post a review of a book like this to my blog, but changes are afoot, and I wanted to give you guys a heads-up. This would be a great time to chime in in the comments on anything you'd like to see added or changed with the blog. I'm open to suggestions, and after all, it's all about you, dear reader. ;-)