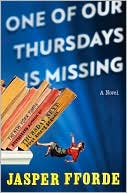 One of Our Thursdays is Missing
by Jasper Fforde
Way back in 2001, buzz rippled through the American publishing industry for a British debut novel, The Eyre Affair. It was this country's introduction to two unlikely-named characters: Jasper Fforde and Thursday Next. We've had a decade to get to know them now, and they haven't worn out their welcome yet. On the contrary, Fforde ffanatics long for Thursday's return, as she has not made an appearance since 2007's First Among Sequels.
One of Our Thursdays is Missing is Fforde's sixth novel in the series. There is always danger of a continuing series growing stale, but Fforde manages to keep things fresh in a variety of ways. First, he rotates the Next novels with those in two other series. Also, there was a bit of a paradigm shift in the last book, as Fforde moved the action of the story ahead by 14 years. Our heroine was suddenly in a very different place in her life.
Now, she's just in a different place
period
, and nobody seems to know where she is. Per the title, one of our Thursdays is missing. However, that leaves one remaining. The fictional Thursday has noted her counterpart's absence, even if no one will own up to it. She's on the case—which is just as well. Things are getting somewhat contentious in her book.
This volume, for the first time, delves into the real nitty-gritty of what it is to be read day in and day out. We get a lot of new information about the BookWorld, in part because there's new info to be had. Fforde recreates his creation in the opening chapter. It's fiction; he can do that. Also new is Sprockett. As literary characters go, this mechanical manservant falls somewhere in the intersection of P.G. Wodehouse's Jeeves, Matt Ruff's electric negroes, and Paolo Bacigalupi's Windup Girl. He's a welcome addition to the series.
While Fforde has added several new elements this time around, other familiar aspects are absent. This novel takes place almost entirely in the BookWorld. I quite missed the cast of RealWorld (or Outland) characters, but as I became more engaged in the story being told, I missed what was left out less.
The Next books are beloved for their unique and affectionate brand of literary satire. That's very much in evidence here. In addition to lampooning the classics, there are plenty of playful references to Fforde's contemporary peers. But on top of that, it's not a half-bad mystery plot that Mr. Fforde has penned.
The one thing we can count on from any Fforde offering is the author's trademark wit and humor. His idiosyncratic cleverness is abundantly on display, so I'll leave the last words to him:
"Budgetary overruns almost buried the remaking before the planning stage, until relief came from an unexpected quarter. A spate of dodgy accounting practices in the Outland necessitated a new genre in Fiction: Creative Accountancy. Shunned by many as 'not a proper genre at all,' the members' skills at turning thin air into billion-dollar profits were suddenly of huge use, and the remaking went ahead as planned. Enron may have been a pit of vipers in the Outland, but they quite literally saved the BookWorld.
Bradshaw's BookWorld Companion (16th edition)"