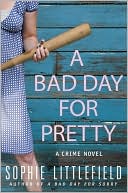 A Bad Day for Pretty: A Crime Novel
by Sophie Littlefield
Okay, there's a little bit of rest. Sophie Littlefield's second Stella Hardesty novel opens about three months after the events of A Bad Day for Sorry. Readers of that novel will realize that Stella was in no shape to rush back into the thick of things, so there was just a bit of rest and recuperation. And it looks like there may be a bit of relaxation in store with the last person Stella should be cozying up to, Sheriff "Goat" Jones. However, this is quickly solved by the inopportune arrival on the scene of Goat's not-quite-ex-wife, Brandy.
Now, Brandy is a pain in the patootie, and she brings a host of trouble with her, but Stella has other concerns. An old friend and client is in trouble. One of the few worthwhile men that Stella has ever had to scare straight is a suspect in a murder. Stella has a hard time imagining the gentle man is a killer, but all signs point to his guilt. Stella launches an investigation in her own inimitable fashion, assisted--you'll be glad to hear--by Chrissy Shaw, a character far too entertaining to have been left behind in book one.
Actually, in this novel we meet several more of the people in Stella's support network. The mysteries that Sophie Littlefield spins are well-plotted and compelling, but I'll be honest, it's these characters and the relationships of this quirky tribe that will keep me coming back for more.